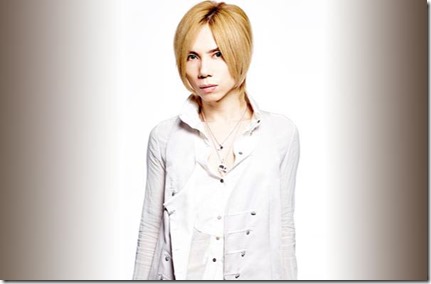 Acid Black Cherry (yasu) is getting ready to release his first single in over a year "Greed Greed Greed". The single is the first of his Project Shangri-la series of events and new releases. It also gets a tie-in as the theme song for TBS TV drama "Akuryo Byoto". His 16th single "Greed Greed Greed" comes on three editions that hit stores August 7th 2013 – read on for more details and teaser preview video.
Acid Black Cherry most recently released third cover album "Recreation 3" (2013.03.06). The album includes 13 covers of popular songs from 1990's rock bands SIAM SHADE and WANDS, singer/song writer Kobayashi Akiko (1985), and more. The new single's coupling track will also be cover song "Kagayaki nagara…" originally by Hideaki Tokunaga (1987) who himself has released many popular cover albums.
Acid Black Cherry is the solo project of lead singer yasu after the popular rock band he led Janne Da Arc (1996-2007) went on indefinite hiatus. Acid Black Cherry released debut single "Spell Magic" in 2007.
New Project "Shangri-la" is divided into 3 "seasons" with the 1st season hitting venues in Hokkaido and Tohoku area for 11 live performances. Season 1 starts August 13th at Fukushima Cultural Hall and ends September 15th at Iwate Morioka Cultural Hall. Season 2 hits 10 venues in Hokuriku, Koshin, and Tokai areas starting September 30th at Aichi Nagoya Congress Center Century Hall and ending November 13th at Toyama Shinminato Central Cultural Center. Season 3 covers venues in Kansai area starting November 21st at Osaka Grand Cube and ends December 27th at Nara 100-nen Meeting Great Hall.
Additional events of the project titled "Shangri-la Meeting" are high-touch fan interaction meetings with yasu and local radio station appearances. The local events happen in the day(s) before with the scheduled live performance in the area. Details are undecided but the first events for "season 1" start August 10th in Fukushima and the last September 16th in Morioka.
As the final part of the project expect a new release from Acid Black Cherry for each of the "seasons" starting with new single "Greed Greed Greed". Additional project details and event ticket availability at special website for the project (link below).
Acid Black Cherry's new single comes on 3 editions,
– Limited with DVD that includes music video and off-shoot footage. First Press adds b2-sized poster.
– Regular CD-only. First Press adds 12-page booklet and b2-sized poster.
– Limited Pressing one-song CD. Includes trading card (1 of 4).
Watch the teaser preview and TVCM spot for "Greed Greed Greed" below the release details…
Acid Black Cherry "Greed Greed Greed" release date August 7th 2013
Limited [CD+DVD] (¥1680)


Regular [CD] (¥1050)


[CD]
1. Greed Greed Greed
2. Kagayaki nagara… (Recreation Track)
[DVD]
1. Greed Greed Greed (music video)
2. Documentary footage
[CD]
1. Greed Greed Greed
2. Kagayaki nagara… (Recreation Track)
Limited Pressing [CD] (¥375)


 
[CD]
1. Greed Greed Greed
 
Acid Black Cherry Official site (avex)
Acid Black Cherry official site