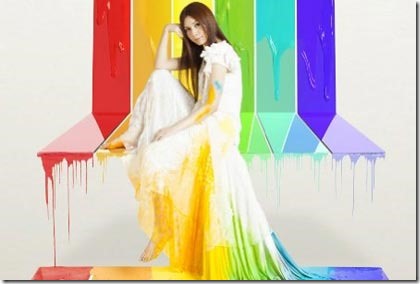 Annabel has updated her new single "Small WorlDrop" (スモルワールドロップ) – cover jackets, full track list and more revealed. The song is featured as the opening theme for anime TV series RDG Red Data Girl. Single "Small WorlDrop" comes on two editions and hits stores April 24th 2013. Updated details and trailer preview for the anime featuring "Small WorlDrop" follow.
Singer/songwriter Annabel writes the lyrics for most all of her songs and collaborated with composer/arranger myu for both songs on this newest single. The pair also teamed up for Annabel's most recent release with the opening theme song "Phantasmagoria" for anime OVA Hanayaka Nari, Waga Ichizoku (Hanayaka) (more details).
Annabel released her first solo album "miniscape" in 2012. The album features 14 tracks – most all featured as theme songs for either anime or game releases. Album "miniscape" hit stores on November 28th 2012 (more details).
Anime RDG Red Data Girl is adapted from novel series by Noriko Ogiwara that follows Izumiko, a young girl who has spent most of her life within the confines of the Tamakura Shrine. She the unfortunate power of freezing any electronic device she touches. But With long braids, the shy young girl desires to just be a normal girl. Izumiko convinces her family that she should enroll at a school in Tokyo accompanied by childhood friend Miyuki. As she tries to begin a normal school girl life a terrible incident occurs and she learns her of a deep family secret…
Izumiko is a vessel for a great shinto spirit and her childhood friend Miyuki is a guardian warrior bound to protect her. Anime RDG Red Data Girl is produced by P.A.WORKS and begins airing late-night in Japan on Tokyo MX April 3rd 2013. Outside of Japan the anime can be viewed over at Funimation.com.
Annabel will hold a mini-live and handshake release event for purchasers of the new single at GAMERS stores around Tokyo. Event is May 11th 12:30pm at Akihabara GAMERS store.
Single "Small WorlDrop" (スモルワールドロップ) comes on two editions,
– Limited with DVD that includes music video for title track.
– Regular CD-only.
Enjoy the trailer video for anime RDG Red Data Girl that features the opening theme song "Small WorlDrop" after the release details.
Annabel – "Small WorlDrop" (スモルワールドロップ) – release date April 24th 2013
Limited [CD+DVD] (¥1800)


Regular [CD] (¥1200)


[CD]
1. Small WorlDrop
2. Shihyou
3. Small WorlDrop (off vocal)
4. Shihyou (off vocal)
[DVD]
1. Small WorlDrop (music video)
[CD]
1. Small WorlDrop
2. Shihyou
3. Small WorlDrop (off vocal)
4. Shihyou (off vocal)
RDG Red Data Girl Official website