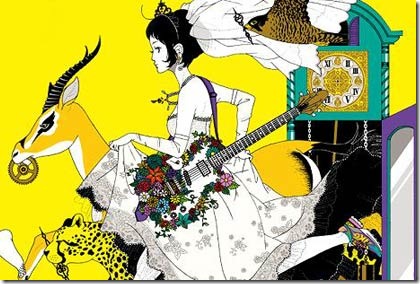 Rock band ASIAN KUNG-FU GENERATION has revealed the cover jackets for their new single "Ima wo Ikite" (今を生きて). Its their 19th single and it will be featured as the theme song for live-action movie Yokomichi Yonosuke. New single "Ima wo Ikite" comes on two editions and hits stores February 20th 2013. Updated details and trailer video for the upcoming movie follow.
Most recently ASIAN KUNG-FU GENERATION released their 7th album "Landmark". Its their first original album in over 2 years and hit stores September 12th. The band also finished up their ASIAN KUNG-FU GENERATION Tour 2012 "Landmark" that began October 12th with 22 performances through December
Movie Yokomichi Yonosuke is a adapted from novel by Shuichi Yoshida and stars Kengo Kora and Yuriko Yoshitaka. The movie hits theaters in Japan February 23rd 2013. Check out the new trailer after the release information below.
ASIAN KUNG-FU GENERATION will hold a release party hosted by music critic Hirayama Yuichi on February 27th 2013 6:00pm at Zepp Tokyo. More details at event website (link below).
Single "Ima wo Ikite" comes on two editions – the Limited includes a DVD with music video for the title track.
ASIAN KUNG-FU GENERATION – "Ima wo Ikite" – release date February 20th 2013
Limited [CD+DVD] (¥1365)


Regular [CD] (¥1020)


[CD]
1. Ima wo Ikite
2. Kemono no Kemono
[DVD]
1. Ima wo Ikite (music video)
[CD]
1. Ima wo Ikite
2. Kemono no Kemono
AKG Release Party with Good CRITIC