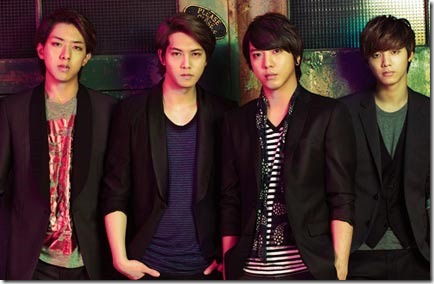 CNBLUE just announced their 2nd Japanese album "What turns you on?". The new album includes their Japanese singles "Robot", "Blind Love", and upcoming "Lady", plus new songs and more for 11 total tracks. Album "What turns you on?" comes on four editions scheduled to hit stores August 28th 2013 – read on for more details…
~ updated details, PV revealed ~
CNBLUE is getting ready to release their 6th Japanese single "Lady" on July 31st 2013 (more details). The title track has two tie-ups for July – ending theme for "Tokui to Goto to Uruwashi no SHELLY ga Konya Kurabete Mimashita" (Nippon TV) and opening theme for "JAPAN COUNTDOWN" (TV Tokyo). Watch the music video below the new album release details.
The band has a busy schedule of upcoming live performances in Japan as part of their Zepp Tour 2013 and summer festival appearances (more details at their official website),
– July 24th & 25th 5:30pm Zepp Sapporo
– July 29th & 30th 5:30pm Zepp Nagoya
– August 1st & 2nd 5:30pm & 2:30pm Zepp Fukuoka
– August 4th ROCK IN JAPAN Fes. 2013
– August 6th & 7th 5:30pm Zepp Tokyo
– August 10th SUMMER SONIC 2013 Tokyo
– August 11th SUMMER SONIC 2013 Osaka
– August 14th & 15th 5:30pm Zepp Namba
Second Japanese album "What turns you on?" is available on 4 editions (details and track list tentative and subject to change),
– Limited A with DVD that includes new music video, making-of footage, and 3 songs live from A-nation music week Charge Go! held at Yoyogi National Stadium August 8th 2012. CD includes 12th bonus song.
– Limited B with DVD that includes 6 songs from live at United States of Odaiba presents Glitter WINTER Live December 25th 2012.
– Regular CD-only.
– Family Mart special edition CD-only. Deluxe LP jacket size, LP-sized poster.
Jacket covers, full track list, and more will be updated when announced.
CNBLUE "What turns you on?" – release date August 28th 2013
Limited A [CD+DVD] (¥3990)


Limited B [CD+DVD] (¥3990)


[CD]
1. Lady
2. Blind Love
3. Robot
4. – 11. undecided
12. undecided bonus track 
[DVD]
1. undecided new song (music video)
2. making-of (off shoot)
3. Live songs "A-nation music week" 2012.08.12
   – Hey You
   – kimio
   – In My Head
[CD]
1. Lady
2. Blind Love
3. Robot
4. – 11. undecided
[DVD]
1. Live songs "United States of Odaiba WINTER Glitter" 2012.12.25
   – Have a good night
   – Wake up
   – Where you are
   – The way part1 ~ one time ~
   – Robot
   – Time is over
Regular [CD] (¥3150)


Family Mart & famima.com [CD] (¥3780)

[CD]
1. Lady
2. Blind Love
3. Robot
4. – 11. undecided
[CD]
1. Lady
2. Blind Love
3. Robot
4. – 11. undecided
CNBLUE Official website (Korean)