July 7, 2013
-
Latest Crunchyroll Anime Videos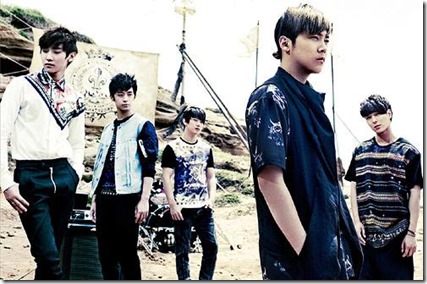 FTISLAND updated the release details for their new Japanese single "Shiawase Theory" – jacket covers, track list, bonus details, and music video all revealed. Their 11th Japanese single has tie-in as the ending theme song for the first movie from anime Toriko. New single "Shiawase Theory" comes on four editions that hit stores July 24th 2013 – updated details and full music video follow.
FTISLAND most recently released their 3rd Japanese album "RATED-FT" (2013.06.12). The album includes new song "Orange iro no sora" featured as ending theme for the Japanese release of Korean movie "Phoenix ~ Yakusoku no Uta ~" staring group member Lee Honggi (more details). Fans showed strong support for the new album pushing it to #3 on the weekly Oricon charts.
The group is finishing up their major arena Japanese tour "FTISLAND Arena Tour 2013 ~ FREEDOM ~" with 11 performances at 7 major venues. More details at special tour website (link below)
– June 15th 5:00pm Super Arena Miyagi
– June 22nd 5:00pm Ecopa Arena Shizuoka
– June 25th & 26th 5:30pm NGK Insulators Hall, Aichi
– June 29th & 30th 5:00pm/3:00pm Municipal Central Gymnasium Osaka
– July 7th 5:00pm Big Hat Nagano
– July 10th & 11th 5:30pm Yoyogi National Stadium Tokyo
– July 13th & 14th Super Arena Saitama (newly added)
Anime Toriko is adapted from manga by Shimabukuro and follows the story of luxury food hunter Toriko as he and his companions search the world for strange animals and plants needed for the finest cuisine dishes. The ongoing anime began airing April 2011 with 75+ episodes so far.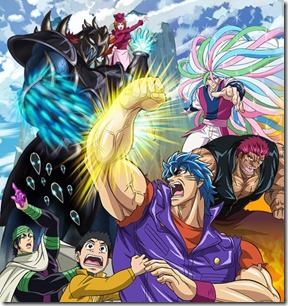 The new movie, full title: Gekijo-ban Toriko Bishokushin no Special Menu, introduces Acacia the Bishokushin ("Gourmet God") and the secret special menu that lies dormant on a fabled island. The movie opens in theaters in Japan on July 27th 2013. Trailer below.
FTISLAND's 11th Japanese single comes on three main editions that each include a different karaoke track. A fourth Famima.com edition also available,
– Limited A with DVD that includes music video for title track, making-of footage, and live acoustic performance from 100% Hits Space Shower TV Plus FTISLAND Special 2012 (4 songs). Includes serial code #1.
– Limited B with DVD that includes footage from Seoul Girls Collection live held June 1st & 2nd at Ariake Coliseum Tokyo. Includes serial code #2.
– Regular CD-only. First Press version adds trading card (1 of 5), serial code #3, and a paper fortune.
– Limited Famima.com (direct) with DVD planned to include footage from fanclub event for album RATE-FT June 9th 2013. Includes replacement jacket cover and serial code #4.
The details for fans submitting the 3 of 4 serial codes from any combination of the four editions. Put an extra good-luck triangle in lower-right of the postcard for additional special gift. Submission deadline is July 25th for the top two awards or by July 29th for the additional awards,
– 400 people invited to special FTISLAND viewing party of the new Toriko movie. Somewhere in Tokyo July 27th 2013.
– 200 people invited to front row seating for live at United States of Odaiba 2013 July 28th 2013 (admission to the event separate, link below).
– all who submit 3 of 4 serial codes receive a special members booklet.
Watch the full music video for "Shiawase Theory" and trailer for the new Torkio movie below the release details.
FTISLAND "Shiawase Theory" – release date July 24th 2013
Limited A [CD+DVD] (¥2000)


Limited B [CD+DVD] (¥2000)


[CD]
1. Shiawase Theory
2. EYES ON ME
3. Rainy Day
4. EYES ON ME (off vocal)
[DVD]
1. Shiawase Theory (music video)
2. Shiawase Theory (off shoot)
3. Acoustic Live from SSTV
   – STAY
   – Venus
   – soyogi
   – Flower Rock
[CD]
1. Shiawase Theory
2. EYES ON ME
3. Rainy Day
4. Rainy Day (off vocal) 
[DVD]
1. Seoul Girls Collection Live 2013.06.02 
   – Negau (Hope)
   – I wish
   – TOP SECRET
   – FREEDOM
Regular [CD] (¥1200)


Limited Famima.com [CD+DVD] (¥2000)

[CD]
1. Shiawase Theory
2. EYES ON ME
3. Rainy Day
4. Shiawase Theory (off vocal)
[CD]
1. Shiawase Theory
2. EYES ON ME
3. Rainy Day
4. Shiawase Theory (off vocal)
[DVD]
1. RATED-FT release event footage
FTISLAND Official website (Japan)
Arena Tour 2013 Special website