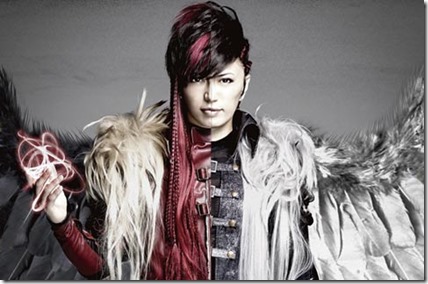 GACKT has revealed the full track list and jacket covers for his two best albums "BEST OF THE BEST vol.1 -MILD-" and "BEST OF THE BEST vol.1 -WILD-". Also revealed is the preview music video for new song "CLAYMORE". The albums each come on three editions and two combined editions which will all hit stores July 3rd 2013. Updated details and preview video follow.
The new song "CLAYMORE" will be featured as the theme song for the Japanese release of movie Silent Hill:3D which hits theaters July 12th 2013.
Singer/model/actor GACKT (39) released his 43rd original single "WHITE LOVERS – Shiawase na Toki" on December 19th 2012. The ballad single, written and composed by GACKT, was featured along with GACKT in the CM for the GACKT x kissmark project "Rouge et Noir" snowboards and gear. His 42nd original single "HAKURO" released October 10th 2012 and was featured as theme song for live-action TV drama Sengoku BASARA MOONLIGHT PARTY in which GACKT stars as Nobunaga Oda. Both songs are included on the best albums.
GACKT began his solo activities in 1999 after being the lead vocalist for visual kei band Malice Mizer beginning in 1995. As a solo artists he's released 43 singles and 12 albums. In 2010 he formed band project YELLOW FRIED CHICKENz which has released 3 singles and one album.
The greatest hits albums each come on Limited with Blu-ray or DVD and a Regular CD-only. Fans can also purchase a premium combined "M / W" of the Limited editions that include additional bonuses – deluxe packaging, B3-sized booklet, 10 cards, and sticker.
GACKT "BEST OF THE BEST vol.1 -MILD-" and "BEST OF THE BEST vol.1 -WILD-" release date July 3rd 2013
Limited -MILD- [CD+BD] (¥5040)


Limited -WILD- [CD+BD] (¥5040)


[CD]
1. WHITE LOVERS ~Shiawase na Toki~
2. DISPAR
3. GHOST
4. Emi ~FOR MY DEAR~
5. JOURNEY THROUGH THE DECADE
6. HAKURO
7. LAST SONG ~unplugged~
8. VANILLA
9. Shoakuma Heaven
10. GRAFFITI
11. Kimi no Tame ni Dekiru Koto
12. MISSING
13. Sakura, Chiru
[BD] (music videos)
1. WHITE LOVERS
2. GHOST
3. JOURNEY THROUGH THE DECADE
4. HAKURO
5. Kimi no Tame ni Dekiru Koto
6. GRAFFITI
7. Sakura, Chiru
[CD]
1. DOOMSDAY
2. DEATH WISH
3. REDEMPTION
4. UNTIL THE LAST DAY
5. CLAYMORE
6. FLOWER
7. SAYONARA
8. BLACK STONE
9. ANOTHER WORLD
10. EVER
11. Jonetsu no Inazuma
12. JESUS
13. STAY THE RIDE ALIVE
[BD] (music videos)
1. UNTIL THE LAST DAY
2. CLAYMORE
3. EVER
4. JESUS
5. STAY THE RIDE ALIVE
Limited -MILD- [CD+DVD] (¥4410)


Limited -WILD- [CD+DVD] (¥4410)


[CD]
1. WHITE LOVERS ~Shiawase na Toki~
2. DISPAR
3. GHOST
4. Emi ~FOR MY DEAR~
5. JOURNEY THROUGH THE DECADE
6. HAKURO
7. LAST SONG ~unplugged~
8. VANILLA
9. Shoakuma Heaven
10. GRAFFITI
11. Kimi no Tame ni Dekiru Koto
12. MISSING
13. Sakura, Chiru
[DVD] (music videos)
1. WHITE LOVERS
2. GHOST
3. JOURNEY THROUGH THE DECADE
4. HAKURO
5. Kimi no Tame ni Dekiru Koto
6. GRAFFITI
7. Sakura, Chiru
[CD]
1. DOOMSDAY
2. DEATH WISH
3. REDEMPTION
4. UNTIL THE LAST DAY
5. CLAYMORE
6. FLOWER
7. SAYONARA
8. BLACK STONE
9. ANOTHER WORLD
10. EVER
11. Jonetsu no Inazuma
12. JESUS
13. STAY THE RIDE ALIVE
[DVD] (music videos)
1. UNTIL THE LAST DAY
2. CLAYMORE
3. EVER
4. JESUS
5. STAY THE RIDE ALIVE
Regular -MILD- [CD] (¥3150)


Regular -WILD- [CD] (¥3150)


[CD]
(same as Limited)
[CD]
(same as Limited)
Limited "M / W" [2CD+2BD] (¥13650)


Limited "M / W" [2CD+2DVD] (¥12075)


[2CD]
(same as Limited)
[2BD]
(same as Limited)
[2CD] 
(same as Limited)
[2DVD]
(same as Limited)
GACKT BEST OF THE BEST vol.1 Special website