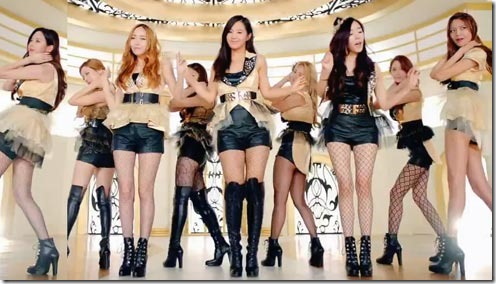 GIRLS' GENERATION (SNSD) recently announced their 3rd Japanese album (untitled) that includes new song My oh My and its preview music video is revealed. Their new album is planned to include singles GALAXY SUPERNOVA, LOVE & GIRLS, new songs plus more for 12 total tracks.
Also a big congratulations to GIRLS' GENERATION for winning the top award of Video of the Year for I GOT A BOY (Korean ver.) at the first ever YouTube Music Awards (YTMA) . The awards were held November 3rd 2013 – video with the award announcement and acceptance by member Tiffany is also below.
GIRLS' GENERATION's new Japanese album comes on four editions scheduled for release on December 11th 2013 – more details and preview music videos follow…
~ updated release details – album title LOVE & PEACE ~
Girls' Generation most recently released their 8th Japanese single GALAXY SUPERNOVA with tie-up as TVCM theme song for Samantha Thavasa jeans (more details). Single GALAXY SUPERNOVA hits stores September 18th 2013 and fans pushed it to #3 on the weekly Oricon charts.
The popular Korean group released their 7th Japanese single LOVE & GIRLS on June 19th 2013 (more details). Before that they released their 2nd Japanese album GIRLS GENERATION II ~Girls & Peace~ back on November 28th 2012 (more details).
Girls' Generation 3rd Japanese album is planned for four editions (details subject to change),
– Limited A with Blu-ray and goods. Blu-ray includes music videos and making-of off-shoot footage. Bonus goods include 9 tin badges and 9 posters each featuring a member of Girls Generation. Also includes 40-page deluxe photo booklet and deluxe packaging.
– Limited B with Blu-ray that includes music videos. Digipack packaging.
– Limited C with DVD (contents similar to Limited B). Digipack packaging.
– Regular CD-only.
Full track list, jacket covers, and additional possible bonuses will be announced, come back to Comtrya Sugoi for updates.
Watch the preview music video for new song My oh My, YTMA Best Music Video award, and the music videos for GALAXY SUPERNOVA (dance ver.), LOVE & GIRLS, and BEEP BEEP all below the release details.
Girls' Generation – 3rd Japanese album – release date December 11th 2013
Limited A [CD+BD+Goods] (¥7500)

Limited B [CD+BD] (¥4990)

[CD]
1. GALAXY SUPERNOVA
2. LOVE & GIRLS
3. My oh My
4. – 12. undecided
[BD]
1. BEEP BEEP
2. LOVE & GIRLS
3. GALAXY SUPERNOVA
4. My oh My
5. GALAXY SUPERNOVA (off shoot)
6. My oh My (off shoot)
7. 3rd album jacket cover photo shoot
[CD]
1. GALAXY SUPERNOVA
2. LOVE & GIRLS
3. My oh My
4. – 12. undecided
[BD]
1. BEEP BEEP
2. LOVE & GIRLS
3. LOVE & GIRLS (dance ver.)
4. GALAXY SUPERNOVA
5. GALAXY SUPERNOVA (dance ver.)
6. My oh My
Limited C [CD+DVD] (¥3990)

Regular [CD] (¥3060)

[CD]
1. GALAXY SUPERNOVA
2. LOVE & GIRLS
3. My oh My
4. – 12. undecided
[DVD]
1. BEEP BEEP
2. LOVE & GIRLS
3. LOVE & GIRLS (dance ver.)
4. GALAXY SUPERNOVA
5. GALAXY SUPERNOVA (dance ver.)
6. My oh My
[CD]
1. GALAXY SUPERNOVA
2. LOVE & GIRLS
3. My oh My
4. – 12. undecided
Girls Generation official Japanese website
Girls Generation at Universal Music Japan