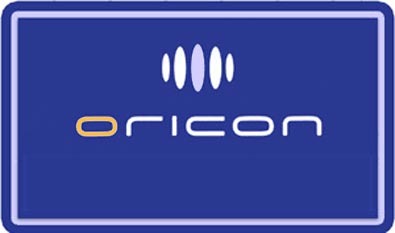 Climbing back on top of the singles charts is EXILE with single "EXILE PRIDE ~ Konna Sekai wo Aisuru Tame ~" selling another 112,000 copies. The single released back on April, 3rd 2013 and featured as the theme song for their ongoing 2013 major venue tour. The single's been in and out of the chart top 10 for the past 25 weeks with approximately 915,000 sales to-date.
In the #2 spot is actress/idol Atsuko Maeda with her third single "Time Machine Nante Iranai" selling over 60,000 copies. Its her first single since graduating from idol group AKB48 a year ago. Korean idol group Girls Generation (SNSD) hits the #3 spot with their 8th Japanese single "GALAXY SUPERNOVA". Getting into the #7 spot is rock band SCANDAL with their 17th single "OVER DRIVE".
Topping the album charts is vocal group AAA with their 8th album "Eighth Wonder" selling over 46,000 copies. Climbing back up into #2 & #3 are a pair of greatest hits releases from Kana Nishino. Her "Love Collection ~ mint ~" and "Love Collection ~ pink ~" both added another 25,000+ copies.
Read on for the complete top 10 singles and album charts follow.
Singles for September 16th – 22nd
| | | | | |
| --- | --- | --- | --- | --- |
| Rank |   Group/Artist | Single Title | Released | Sold |
| 1 | EXILE | EXILE PRIDE ~ Konna Sekai wo Aisuru Tame ~ | April 3rd | 112,280 |
| 2 | Maeda Atsuko | Time Machine Nante Iranai | Sept 18th | 60,687 |
| 3 | Girls Generation | GALAXY SUPERNOVA | Sept 18th | 50,793 |
| 4 | Lead | GREEN DAYS / strings | Sept 18th | 41,178 |
| 5 | Yuzu | Tomo ~ Tabidachi no Toki ~ | Sept 18th | 28,441 |
| 6 | Fudanjuku | Danso Revolution | Sept 18th | 17,209 |
| 7 | SCANDAL | OVER DRIVE | Sept 18th | 15,957 |
| 8 | BiS | Fly Hi | Sept 18th | 14,572 |
| 9 | Iguchi Yuka (CV) | Symphogear G Character single #8 | Sept 18th | 12,044 |
| 10 | Kazuyoshi Saito | Always | Sept 18th | 9,541 |
---
Albums for September 16th – 22nd
| | | | | |
| --- | --- | --- | --- | --- |
| Rank |   Group/Artist | Album Title | Released | Sold |
| 1 | AAA | Eighth Wonder | Sept 18th | 46,006 |
| 2 | Kana Nishino | Love Collection ~ mint ~  | Sept 4th | 26,770 |
| 3 | Kana Nishino | Love Collection ~ pink ~  | Sept 4th | 25,292 |
| 4 | Kobuchi Kentaro (Kobukuro) | Tsumabikuutagoe ~ KOBUKURO songs, acoustic guitar instrumentals | Sept 18th | 22,494 |
| 5 | Spitz | Chiisana Ikimono | Sept 11th | 17,721 |
| 6 | Mamoru Miyano  | PASSAGE | Sept 18th | 17,424 |
| 7 | Ayumi Hamasaki | 15th Anniversary TOUR ~ A BEST LIVE~ | Sept 18th | 15,218 |
| 8 | Various Artists | Idolm@ster 765PRO AllStars Gre@test Best! Idolm@ster History | Sept 18th | 14,117 |
| 9 | FTISLAND | The Singles Collection | Sept 18th | 12,793 |
| 10 | Dream Theater | Dream Theater | Sept 18th | 11,847 |
Previous Oricon Charts
Source: Oricon