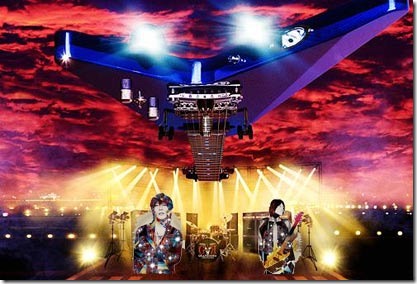 GRANRODEO is preparing to released their "GRANDRODEO Greatest Hits ~ GIFT REGISTRY ~" compilation album. The group has revealed the cover jacket, a CM TV-spot video, and details for special launch events. Their greatest hits album comes on 2 CDs and includes songs from their debut single "Go For It!" (2005) through 18th single "DARK SHAME" (2012) for a total of 27 tracks. The "Greatest Hits ~ GIFT REGISTRY ~" album hits stores March 6th 2013 – read on for more details and CM video.
GRANRODEO consists of singer/voice actor KISHOW (Taniyama Kisho) and guitarist e-ZUKA (Iizuka Masaaki). Many of their releases have tie-ins with anime or games starting with their 2005 debut single "Go For It!" (OP anime IGPX). More recently in 2012 their 16th & 17th singles "Can Do" and "RIMFIRE" were featured as the opening themes for anime Kuroko's Basketball and their 18th single "DARK SHAME" is currently featured as the opening theme for anime CODE:BREAKER.
The group's upcoming 19th single "Henai no Rondo" (偏愛の輪舞曲) will be featured as the opening theme for Spring 2013 TV anime series Karneval.  Their newest single (not included on the album) is scheduled to be in stores April 17th 2013 (more details).
Special launch events are planned to celebrate the release of their greatest hits album. The venues will have a screening of the DVD that captures GRANRODEO's performance at Yokohama BLITZ November 3rd 2012 plus there will be audio commentary by KISHOW and e-ZUKA. Tickets distributed at time of purchase at selected stores,
– March 16th 2013 12:30pm Science Museum Hall (Gamers, Animate in and around Tokyo)
– March 16th 10:30am & 2:00pm Higashinari Kumin Center (Gamers, Animate Kansai region)
– March 17th 10:30am & 2:00pm Sakae Gas Building (Nagoya) (Gamers, Animate Aichi region)
Album "GRANRODEO Greatest Hits ~ GIFT REGISTRY ~" comes in deluxe packaging and contains two CDs and includes a DVD with 17 songs captured at their live concert event November 3rd 2012 – "GRANDRODEO '39' LIVE at Yokohama Blitz ~ CRACK STAR FLASH ~" that celebrated the release of their 5th album.
Enjoy the CM TV spot for the new album below the release details.
GRANRODEO – "Greatest Hits ~ GIFT REGISTRY ~" – release date March 6th 2013
Limted [CD+DVD] (¥3800)


 
[CD1]

1. We wanna R & R SHOW
2. Infinite Love
3. DECADENCE
4. RIDE ON THE EDGE
5. BRUSH the SCAR LEMON
6. Dokoku no ame
7. NOT for SALE
8. tRANCE
9. Canary
10. Koine
11. Darlin'
12. Beautiful world
13. Go For It! 
[CD2]
1. SUPERNOVA
2. ROSE HIP-BULLET
3. CRACK STAR FLASH
4. Detarame na zanzo
5. Black out
6. Haitoku no kodō
7. HEAVEN
8. RIMFIRE
9. Modern strange cowboy
10. DARK SHAME
11. Ai no Warrior
12. HAPPY LIFE
13. Can Do
14. Delight song
[DVD]
1. Live performance from Yokohama Blitz Nov. 2012 (17 songs)