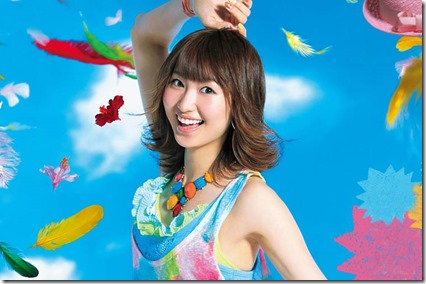 Haruka Tomatsu just released her 11th single "PACHI PACHI PARTY". The single comes on two editions each with a First Press application card for awards lottery and selected stores have a bonus photo (varies) while supplies last. Single "PACHI PACHI PARTY" hit stores July 10th 2013 – release details, audio preview, and promo message video follow.
Haruka Tomatsu previously released her 2nd solo album "Sunny Side Story" that includes 5 singles, coupling tracks, and new songs for 13 total tracks. The album's two editions hit stores January 16th 2013 (more details). Also as one part of Sphere that consists of popular voice actresses (seiyuu) Aki Toyosaki, Ayahi Takagaki, Haruka Tomatsu, and Minako Kotobuki, they released the group's 12th single "GENESIS ARIA" on May 1st 2013. The single has tie-in as the opening theme song for anime TV series Arata The Legend (Arata Kangatari).
Singer/voice actress Haruka Tomatsu has also been busy voicing a number of lead characters including Asuna in the popular Sword Art Online, Morgiana in Magi – The Labyrinth of Magic, Mizutani Shizuku in My Little Monster, Lala Deviluke inTo Love-Ru Darkness, and currently Lune in The World God Only Knows: Goddesses Arc.
Single "PACHI PACHI PARTY" comes on two editions,
– Limited with DVD that includes music video and TV CM spots. First Press version includes application card.
– Regular CD-only. First Press adds deluxe packaging and application card.
Application card for awards lottery (deadline July 15th 2013),
– 10 persons PACHI PACHI PARTY live phone call
– 400 persons (6:00pm & 7:30pm) release event mini-live and talk somewhere in Tokyo (200 persons each time).
– 50 persons autographed PACHI PACHI PARTY poster.
– all persons special mobile wait tone.
Audio preview and video message from Haruka Tomatsu follow below the release details.
Haruka Tomatsu "PACHI PACHI PARTY" – release date July 10th 2013
Limited [CD+DVD] (¥1800)


Regular [CD] (¥1300)


[CD]
1. PACHI PACHI PARTY
(preview)
2. Tomorrow
3. PACHI PACHI PARTY (off vocal)
[DVD]
1. PACHI PACHI PARTY (music video)
2. TV spots (15sec, 30sec)
[CD]
1. PACHI PACHI PARTY
2. Tomorrow
3. PACHI PACHI PARTY (off vocal)