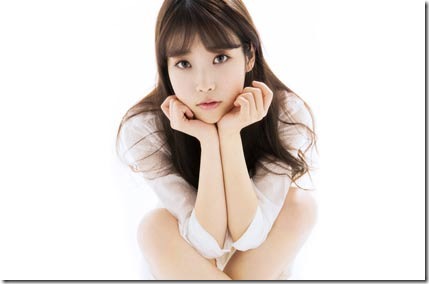 IU has announced her 3rd Japanese single! The new single isn't yet title but will be produced by HIRO and Jimmy Jam & Terry Lewis who collaborated on IU's first Japanese mini-album. Her new Japanese singles comes on three editions that are scheduled to hit stores September 11th 2013 – read on for more early release details…
~ updated details, "Monday Afternoon" ~
Most recently Korean singer IU (21) released Japanese mini-album "Can You Hear Me?" (2013.03.20). The mini-album has 5 tracks including "Beautiful Dancer" and "Truth" produced by legendary producers Jimmy Jam & Terry Lewis who helped pushed Janet Jackson to stardom. IU personally composed song "Voice-mail" in collaboration with YADAKO providing the lyrics.
IU's new Japanese single comes on three editions (no track details announced yet),
– Limited A with DVD.
– Limited B with DVD.
– Regular CD-only
Bonus original photo while supplies last (varies by store).
Most stores also offer a postcard at time of purchase for special listening events ticket lottery. The events include listening to new single and comments from IU – venues and number of persons,
– August 28th 5:30pm & 7:00pm FM Hall Tokyo (700 persons)
– August 29th 5:30pm & 7:00pm ABC Hall Osaka (400 persons)
– August 30th 5:30pm & 7:00pm ELL Nagoya (400 persons)
– August 31st 6:00pm IMS Hall Fukuoka (250 persons)
Title, jacket covers, tracklist, and additional possible bonuses will be updated when announced. Pre-order links may not be active yet…
IU – 3rd Japanese single – release date September 11th 2013
Limited A [CD+DVD] (¥2300)


Limited B [CD+DVD] (¥1800)


[CD]
1. undecided
2. undecided
3. undecided
4. undecided
[DVD]
1. undecided
[CD]
1. undecided
2. undecided
3. undecided
4. undecided
[DVD]
1. undecided
Regular [CD] (¥1100)


 
[CD]
1. undecided
2. undecided
3. undecided
4. undecided