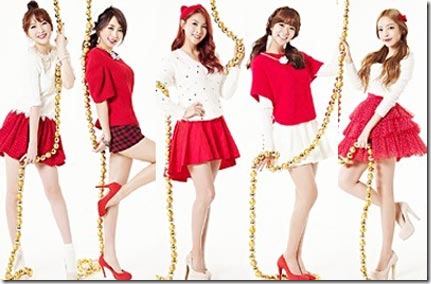 KARA has announced a new Japanese single French Kiss. Its their 10th Japanese single and has simultaneous release with a greatest hits album BEST GIRLS. Single French Kiss comes on two editions plus five Limited solo versions available only via the Universal Music Store – all hit stores November 27th 2013. Read on for more details….
KARA also announced a greatest hits album BEST GIRLS that includes 14 of their hit Japanese songs plus a second CD that includes their hit Korean songs in the original Korean. Both the album and 10th single release on November 27th 2013. More details on the greatest hits album – here.
KARA had a busy summer of releases and most recently released Korean album FULL BLOOM on September 2nd 2013. It was their first Korean release in two years after contract issues started in 2011. 
In Japan KARA released Japanese album FANTASTIC GIRLS on August 28th 2013. KARA's 4th Japanese album includes singles, new songs, and more for 10 total tracks (more details). KARA released their 9th Japanese single Thank You Summer Love on July 24th 2013.
KARA's 10th Japanese single French Kiss comes on two editions,
– Limited with DVD that includes music videos and making-of footage for title track. Adds trading card (1 of 6).
– Regular CD-only.
– Universal Music Store Limited Solo editions with DVD that includes music video and making-of footage focused on the individual KARA member.
KARA – French Kiss – release date November 27th 2013
Limited A [CD+DVD] (¥1980)


Regular [CD] (¥1050)


[CD]
1. French Kiss
2. Girlfriend
3. French Kiss (off vocal)
4. Girlfriend (off vocal)
[DVD]
1. French Kiss (music video)
2. French Kiss (close-up ver.)
3. French Kiss (off shoot)
[CD]
1. French Kiss
2. Girlfriend
3. French Kiss (off vocal)
4. Girlfriend (off vocal)
UMG Store Gyuri version [CD+DVD] (¥1575)

UMG Store Seung Yeon version [CD+DVD] (¥1575)

[CD]
1. French Kiss
2. Girlfriend
3. French Kiss (off vocal)
4. Girlfriend (off vocal)
[DVD]
1. French Kiss (music video, Gyuri ver.)
2. French Kiss (off shoot, Gyuri ver.)
[CD]
1. French Kiss
2. Girlfriend
3. French Kiss (off vocal)
4. Girlfriend (off vocal)
[DVD]
1. French Kiss (music video, Seung ver.)
2. French Kiss (off shoot, Seung ver.)
UMG Store Nicole version [CD+DVD] (¥1575)

UMG Store Hara version [CD+DVD] (¥1575)

[CD]
1. French Kiss
2. Girlfriend
3. French Kiss (off vocal)
4. Girlfriend (off vocal)
[DVD]
1. French Kiss (music video, Nicole ver.)
2. French Kiss (off shoot, Nicole ver.)
[CD]
1. French Kiss
2. Girlfriend
3. French Kiss (off vocal)
4. Girlfriend (off vocal)
[DVD]
1. French Kiss (music video, Hara ver)
2. French Kiss (off shoot, Hara ver.)
UMG Store Ji Young version [CD+DVD] (¥1575)

[CD]
1. French Kiss
2. Girlfriend
3. French Kiss (off vocal)
4. Girlfriend (off vocal)
[DVD]
1. French Kiss (music video, Ji Young ver.)
2. French Kiss (off shoot, Ji Young ver.)