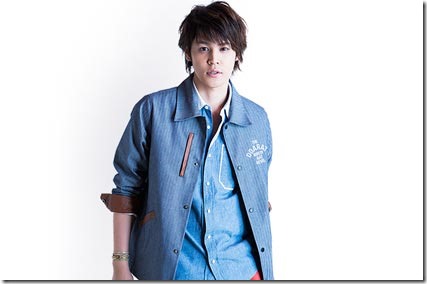 Singer and voice actor Mamoru Miyano is preparing his 9th single "Kanon" (カノン) for release. The title track will be featured as the opening theme for anime Uta no Prince-sama – Maji Love 2000%. Mamoru Miyano again voices lead character Tokiya Ichinose in follow-up season to 2011's Uta no Prince-sama – Maji Love 1000%. Single "Kanon" comes on one edition and is set to hit stores April 10th 2013 – read on for more release details (updated).
Mamoru Miyano is a popular voice actor who is currently voicing Taichi Mashima (Chihayafuru 2), Chrollo Lucifer (Hunter X Hunter), and Takuto (Star Driver the Movie). He'll voice several lead characters in the upcoming Spring 2013 anime season, Yataka (Arata Kangatari), Yogi (Karneval), and Tokiya Ichinose. 
Anime Uta no Prince-sama – Maji Love 2000% is the second season, with the first season Uta no Prince-sama – Maji Love 1000% airing spring 2011. Adapted from visual novel/dating-sim game by Kanon Kunozuki the story follows Haruka Nanami, an aspiring pop song composer. She has been allowed to enroll at prestigious Saotome Academy for aspiring music artists where any romantic relationships are strictly forbidden. Now surrounded by handsome and talented boys with one having an uncanny resemblance to her idol Hayato she attempts to find her way in the competitive world of pop-music.
The first season of reverse-harem and musical antics over the top and often ridiculous but it all made for an entertaining show – season 2 should be more of the same. Uta no Prince-sama – Maji Love 2000% begins airing late-night April 4th 2013 on Tokyo MX. No announcement yet on if it will be streamed outside of Japan. Crunchyroll will simulcast the anime outside of Japan – check our Crunchyroll updates page for all the newest episodes or hit the link for Uta no Prince-sama for episodes and related posts.
Single "Kanon" comes on one CD-only edition with 3 songs, the title track is a collaboration of Elements Garden heavy-weights Noriyasu Agematsu (lyrics) and Junpei Fujita (arrangement). A First Press version is available with photo and/or poster bonus (varies by store) and application ticket for launch event.
Photo sample: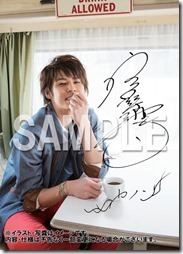 Meeting and handshake events are planned in conjunction with application ticket and selected stores,
– May 5th 12:30pm near Akihabara (Gamers)
– May 5th 3:00pm near Akihabara (Toranoana)
– May 11th 11:30am & 1:30pm Kobe Hyobo (Gamers, Toranoana, Animate)
– May 11th 5:30 Okayama (Animate)
– May 18th 12:00pm, 2:30pm, 4:30pm Ikebukuro (Animate)
Mamoru Miyano – "Kanon" (カノン) – release date April 10th 2013
Regular [CD] (¥1300)


[CD]
1. Kanon
2. THANK YOU
3. FOREVER LULLABY
Uta no Prince-sama – Maji Love Official website