December 24, 2013
-
toyNN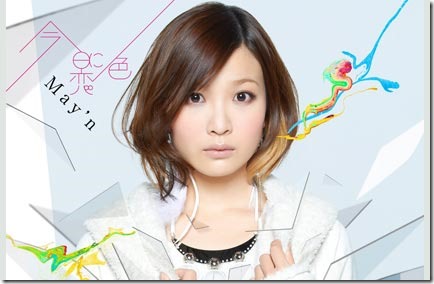 May'n has update the release details for her new single Kyo ni Koiiro (今日に恋色) – jacket covers and preview music video revealed. Its her 9th single and gets tie-up as the opening theme for new anime TV series Inari KonKon Koi Iroha. Single Kyo ni Koiiro comes on two editions that hit stores January 29th 2014 – more details and PV music video follow.
May'n will also simultaneously release her 4th original album NEW WORLD with her 9th single on January 29th 2014. The album's full track list and jacket covers are also just revealed (more details).
Earlier May'n announced a major live tour May'n Road to 10th Anniversary Japan & World Tour 2014-2015 'dots and lines'. The tour is planned for 26 performances across Japan in 2014 and another set of performances in 2015. More details at special website (link below).
Anime Inari KonKon Koi Iroha is adapted from manga by Morohe Yoshida. The romantic-comedy centers around Inari Fushimi a typical shy middle-school girl who would like to express her feelings for the boy she likes, classmate Koji Tanbabashi. After helping an injured fox pup, Inari is confronted by a deity Uka-no-Mitami-no-Kami who grants her to ability to change form.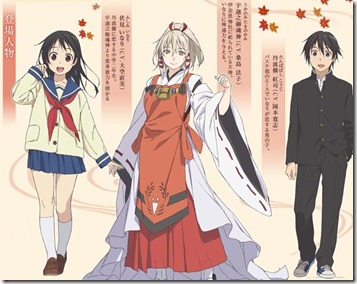 The anime adaption is produced by Production IMS and stars new-comer Naomi Ozora (Genshiken 2) in the roll of Inari and veteran voice actress Houko Kuwashima (Claymore) as Uka-no-Mitami-no-Kami. Anime Inari KonKon Koi Iroha begins airing January 15th 2014 on Tokyo MX. No announcements yet if it will be available outside of Japan.
The anime's ending theme will be provided by Maaya Sakamoto with her 23rd single SAVED, (more details).
May'n has quickly announced a free mini-live and talk event for the release of her new single and album scheduled for December 28th 1:00pm Kawasaki Plaza Grand Stage. More details at her official website (link below).
Single Kyo ni Koiiro comes on two editions,
– Limited with DVD includes music video for title track.
– Regular CD-only.
Watch the 1-chorus version of music video for Kyo ni Koiiro and preview for anime Inari KonKon Koi Iroha after the release details.
May'n – Kyo ni Koiiro (今日に恋色) – release date January 29th 2014
Limited [CD+DVD] (¥1800)

Regular [CD] (¥1300)

[CD]
1. Kyo ni Koiiro
lyrics, music: Kz livetune

2. Soliste ~ Soloist
lyrics: Iwasato Yuho, music: Matsushita Shohei, Takahashi Yoichi

3. Dear YES><NO
lyrics: Mana Anju, music: Ikegami Kiyoshi
[DVD]
1. Kyo ni Koiiro (music video)

[CD]
1. Kyo ni Koiiro
2. Soliste ~ Soloist
3. Dear YES><NO
Inari Konkon Koi Iroha website