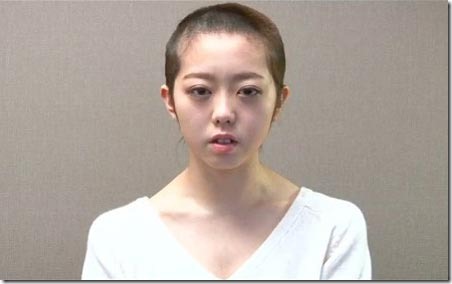 An idol's life ain't easy. Minegishi Minami (20) one of the 24 founding members of AKB48 and nearly always in the top 16 popularity has hit the Japanese scandal tabloids with the dreaded "boyfriend"! In the current issue of Shukan Bunshun Minegishi Minami is reported to have spent the night at Alan Shirahama who is a member of GENERATIONS (EXILE's new little brother group). In a dramatic move Minegishi has shaved her head as self-imposed penance for her actions and AKB48 management has announced her demotion within the group. More details and video message from the shaved Minegishi Minami follows.
Minegishi Minami is known for making fun of her lack of popularity with the male fans of AKB48 and often gets a lot of laughs from her humorous remarks. "Miichan" as fans caller, In the recently posted video with other members at a special ceremony festival is in her best form (video below). Its in stark contrast to the current video which is painful to watch a shaven and tearful Minegishi apologizing for her actions.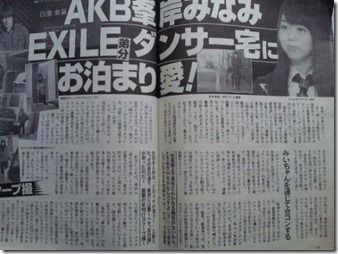 Shirahama and Minegishi meet in 2011 while working together on drama "Moshimo Kimi ga".
Most recently as part of spin-off group no3b (No Sleeves) Minegishi Minami released "Kirigirisu-jin" (キリギリス人) which hit stores January 16th 2013 and hit #2 on the weekly Oricon singles charts.
Other top AKB48 idols showing their support for Minegishi – (from Tomomi Itano's twitter)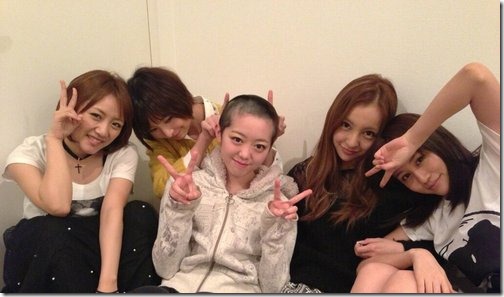 Video message from Minegishi and translation below (thanks aramatheydidnt!)
I'm Minegishi Minami from Umeda team B of AKB48.

I'm very sorry to have caused enormous worry to members, fans, staffs, my families and a lot of other people with the article in the weekly magaizne that is published today.

(Deep Bow)

As the 1st generation member of AKB48, the group that has formed in 2005, it's my responsibility to always behave as a good role model to juniors. I deeply regret what I did this time. It was a thoughtless deed and I was completely lacking self-awareness as a senior member.

My brain blanked out and I'm still unable to figure out what to do, what I can do. But after I saw the magazine a little ago, I couldn't help but doing something. And I decided to shave my head without consulting any member or staff at my agency.

Although I don't think I would be forgiven by doing this, the first thing that I went through my head was that "I don't want to leave AKB48."

This is a place where my dear members, who I spent my blossom of youth together, are. And it's unimaginable to even think about leaving the group where I'm with so many wonderful and sweet fans.

I understand it's wishful thinking, but if it's possible, I would like to still be AKB48′s Minegishi Minami.

This is all my fault.

I'm truly sorry.

I will leave my hereafter to the hands of Akimoto-sensei and management.

Though I haven't been able to tidy my mind up, but I just wanted to tell my current feeling to you.

Thank you so much for listening to me.
And a perfectly composed and funny Minegishi Minami from January 14th 2013 ceremony along with 16 other members of the AKB48 family,