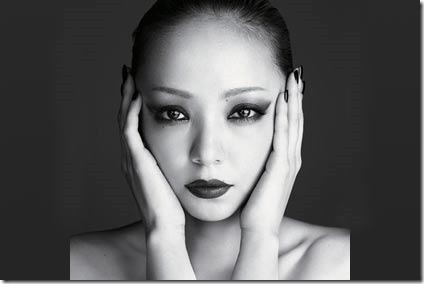 Namie Amuro has announced her 11th original album "FEEL" and revealed a promo video plus nearly all the release details including jacket covers. The album's track list includes single "Big Boys Cry", digital single "Contrail", unreleased single "Can You Feel This Love", and atleast 7 new songs plus more for 12 total tracks. Album "FEEL" is planned for three editions and will hit stores July 10th 2013 – read on for more details and PV video featuring new song "Alive"…
~ new PV revealed ~
Namie Amuro, who celebrated her 20th anniversary last year, most recently released her 41st single "Big Boys Cry | Beautiful" with both title songs having tie-in as CM themes for Kose ESPRIQUE beauty products which also star Namie Amuro. The single hit stores March 6th 2013 and fans pushed it to #4 on the weekly Oricon charts.
She also released digital single "Contrail" (2013.05.15) which is featured as theme song for TBS TV show "Soratobu Kohoshitsu" staring Aragaki Yui. Another new song "Can You Feel This Love" will be officially released on the new album but is featured on the Fuji TV series "Mezamashi TV" beginning April 1st.
Also announced is the "Namie Amuro ~FEEL~ Tour 2013" that's planned to hit 24 major venues and 40 performances starting August 16th at the Yokosuka Art Theatre, Kanagawa and end with a pair of performances December 20th & 21st at Marine Messe, Fukuoka. More details and special tour website (link below).
Her new album "FEEL" comes on three editions,
– Limited with Blu-ray that's planned to include six music videos (5 new), deluxe packaging.
– Limited with DVD (same contents as Blu-ray), deluxe packaging.
– Regular CD-only.
All three editions offer a First Press bonus b2-size poster!
Watch the PV CM spot for the new album and featuring new song "Alive" after the release details.
Namie Amuro "FEEL" – release date July 10th 2013
Limited [CD+BD] (¥4410)


Limited [CD+DVD] (¥3990)


[CD]
1. Big Boys Cry
2. Contrail
3. Can You Feel This Love
4. Alive (new song featured in teaser)
5. Heaven (new)
6. Hands On Me (new)
7. Let Me Let You Go (new)
8. Supernatural Love (new)
9. La La La (new)
10. Poison (new)
11. undecided
12. undecided
[BD]
1. Big Boys Cry (music video)
2. Contrail (music video)
3. Alive (music video)
4. Heaven (music video)
5. Hand On Me (music video)
6. Let Me Let You Go (music video)
[CD]
1. Big Boys Cry
2. Contrail
3. Can You Feel This Love
4. Alive 
5. Heaven
6. Hands On Me 
7. Let Me Let You Go 
8. Supernatural Love 
9. La La La 
10. Poison 
11. undecided
12. undecided
[DVD]
1. Big Boys Cry (music video)
2. Contrail (music video)
3. Alive (music video)
4. Heaven (music video)
5. Hand On Me (music video)
6. Let Me Let You Go (music video)
Regular [CD] (¥3060)


 
[CD]
1. Big Boys Cry
2. Contrail
3. Can You Feel This Love
4. Alive
5. Heaven
6. Hands On Me
7. Let Me Let You Go
8. Supernatural Love
9. La La La
10. Poison
11. undecided
12. undecided