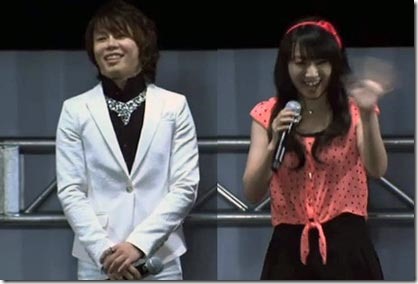 Special collaboration with T.M.Revolution x Nana Mizuki on single "Preserved Roses" that's featured as the opening theme for anime Valvrave the Liberator (Kakumeiki Valvrave). The single comes on three editions and is scheduled for release on May 15th 2013 – read on for more details and preview video for Valvrave the Liberator featuring the opening theme "Preserved Roses"…
~ updated details ~
T.M.Revolution or T.M.R. is the alter-ego created by Takanori Nishikawa who also created and leads rock band abingdon boys school. Nishikawa as T.M.R. has released 25 singles from 1995-2012 and 9 original albums. Most recently T.M.R. released his by-request self-cover album "UNDER:COVER 2" with 15 songs based on fan voting and  each newly arranged by guest artists. Album "UNDER:COVER 2" it hit stores February 20th 2013 and landed #4 of the weekly Oricon charts.
Singer/voice actress Nana Mizuki still one of the most popular seiyuus released her 9th original album "ROCKBOUND NEIGHBORS" on December 12th 2012. The album includes her 28th single "BRIGHT STREAM" (August 2012) featured as the opening theme song for anime movie Magical Girl Lyrical Nanoha the MOVIE 2nd A's in which Nana Mizuki renewed her popular role as Fate Testarossa.
Anime Valvrave the Liberator (Kakumeiki Valvrave) is an original mech anime from Sunrise studios. The story is set in a new age where 70% of the human population lives in space within the gigantic "Dyson Sphere", a city in space. The world is divided into two main powers: The Dorssia Military Pact Federation, a power which grew out of a military alliance, and the Atlantic Rim United States (ARUS), which grew in power as it expanded its trade agreements.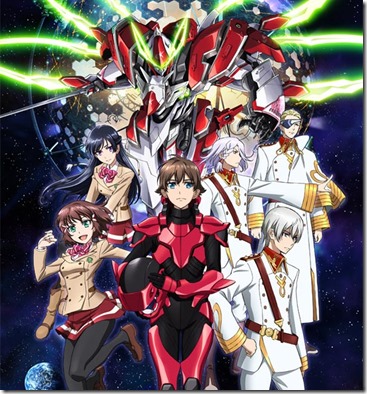 The minor nation of JIOR has declared neutrality between these two forces and maintains its peace through economic prosperity. Within the JIOR's Sphere, Haruto Tokishima lived an ordinary life as a high school student in the division known as "Module 77"—until the Dorssian military begins a sudden invasion! Soon the whole world will be shaken when Haruto meets the mysterious humanoid weapon, Valvrave!
Anime Valverave the Liberator begins airing April 11th 2013 late-night on Tokyo MX. The anime has been licensed in North America by Aniplex USA and it will be simulcast on streaming provider Crunchyroll starting April 12th at 11am PST. Be sure to check out our Crunchyroll updates page for all the latest anime episodes or hit the link for Valvrave the Liberator for episodes and related reports.
Group angela will provide the first ending theme with single "Boku Janai" (included on new album "ZERO") and the second ending theme will be from elisa (back from hiatus!) with single "Soban iru yo" with release date planned for June 19th 2013.
Single "Preserved Roses" comes on three editions,
– Limited with bonus DVD that includes music video and making-of footage plus creditless anime opening and more. Includes guide book for anime.
– Limited Pressing with only title track and special price. Includes trading card featuring T.M.R. x Nana Mizuki.
– Regular with bonus tracks featuring the title song performed individually by T.M.R. and Nana Mizuki. First Press version adds bonus trading card (1 of 4).
Cover jackets and more details will be announced so come back to Comtrya Sugoi for updates. Enjoy the preview video for anime that features the opening theme song "Preserved Roses" below.
T.M.Revolution x Nana Mizuki – "Preserved Roses" – release date May 15th 2013
Limited [CD+DVD] (¥1500)


Limited Pressing [CD] (¥500)


[CD]
1. Preserved Roses
2. Preserved Roses (TV-sized)
[DVD]
1. Preserved Roses (music video)
2. Preserved Roses (off shoot)
3. Preserved Roses (TV spot)
4. Valvrave the Liberator (opening)
5. Valvrave the Liberator (TV spots)
[CD]
1. Preserved Roses
Regular [CD] (¥888)


 
[CD]
1. Preserved Roses
2. Preserved Roses (T.M.Revolution)
3. Preserved Roses (Nana Mizuki)
 
Valvrave the Liberator Official website
T.M.Revolution Official website