September 12, 2013
-
toyNN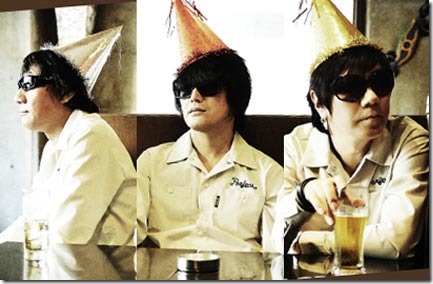 the pillows are about to drop their 25th anniversary single "Happy Birthday" and recently revealed the full tracklist, PV video, plus audio previews. Originally forming on September 16th 1989, the pillows have released 35 singles and 18 albums over their long and popular career. Single "Happy Birthday" comes on two editions that hit stores on their anniversary September 16th 2013. More details and previews follow.
Its been close to two years since the pillows released their 34th single "Energia" (2011.12.07) and their 18th album "TRIAL" (2012.01.18). The band members have been busy in live events and in side projects including band THE PREDATORS (Sawao Yamanaka, VO) that released mini-album Monster in my head (2012.08.01).
The pillows will hold a special launch event at the Tower Records Shinjuku September 23rd 2013 at 4:00pm. Purchasers of the single at the store location will receive a lottery ticket for a chance attend. The event will also be streamed live on NicoNico Live (link below).
Also streamed live on NicoNico Live will be a special 25th anniversary single launch event on September 16th starting at 8:00pm (link below).
Their 25th anniversary single "Happy Birthday" comes on two editions with 3 CD tracks planned,
– Limited with DVD planned to include music video and additional footage.
– Regular CD-only.
Purchaser bonus varies by store but most carry a sticker, those at Tower Records and Tsutaya Records receive "birthday" card bonus.
Audio previews below and watch the PV video for single Happy Birthday after the release details.
the pillows – Happy Birthday – release date September 16th 2013
Limited [CD+DVD] (¥1800)


Regular [CD] (¥1200)


[CD]
1. Happy Birthday
(preview)
2. Tokai no Alice
(preview)
3. Kuota Bakugyaku no Tomo
(preview)
[DVD]
1. Happy Birthday (music video)
2. additional footage
[CD]
1. Happy Birthday
2. Tokai no Alice
3. Kuota Bakugyaku no Tomo