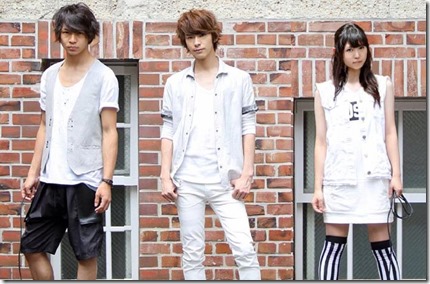 The Sketchbook has updated the release information for their 3rd album "12" – jacket covers and full track list have been announced. The new album includes previously released singles "Clear", "Spilt Milk / REFLECT", and newest double single "Crack / 21" plus more for 12 total tracks. Album "12" comes on two editions that hit stores July 31st 2013 – read on for more details…
~ CM Spot revealed ~
Most recently The Sketchbook released double-a single "Crack / 21" on June 19th 2013. Song "Crack" is the featured theme song for music show NTV Music Dragon. and song "21" has tie-in as the ending theme for the second season of anime KINGDOM.
The band The Sketchbook was formed originally around the anime SKET DANCE which ended its run of 77 episodes in September 2012. Their first 5 singles and 11 total songs had tie-ups with the anime as opening and ending themes and insert songs. The band is now out on their own with two singles and this new album released.
To support their 7th single and 3rd album The Sketchbook is holding several launch events tied to the new releases. Mini-live viewing is free, handshake plus jacket cover signing tied to purchasing the single or album at the host store, and for fans purchasing both the single and album can participate in a instant-photo session,
– June 19th 6:30pm Shinseido Latin 5 Kashiwa (single)
– July 14th 4:00pm Tsutaya Morishia Tsudanuma (single)
– July 30th 6:30pm Shinseido Latin 5 Kashiwa (album)
– August 17th 1:00pm HMV Sakae (single & album)
– August 18th 1:00pm & 3:00pm Tower Records Abeno Hoop (single & album)
– August (late) 3:00pm Tsutaya Morishia Tsudanuma (album)
Their 3rd album comes on two editions,
– Limited with DVD that includes previously released music videos and members commentary.
– Regular CD-only.
First Press bonus offered at selected stores on both editions, special sticker. Selected stores offer application card tied to purchasing both their newest single and new album for special award of a members autographed message card (deadline August 30th).
Watch the preview music video for newest single "Crack" below the release information.
The Sketchbook "12" – release date July 31st 2013
Limited [CD+DVD] (¥3500)


Regular [CD] (¥3000)


[CD]  
1. Crack
2. Clear (OP6 SKET DANCE)
3. Split Milk
4. Flashback
5. Itsuka Moichido
6. Boku ni de Kirukoto
7. 21
8. Mirror
9. Signal
10. REFLECT
11. over the station
12. Kiwoku ~ unplugged ver. ~ [bonus track]
[DVD]
1. Clear (music video)
2. Split Milk (music video)
3. Crack (music video)
4. Mirror (music video)
5. Band members commentary
[CD] 
1. Crack
2. Clear (OP6 SKET DANCE)
3. Split Milk
4. Flashback
5. Itsuka Moichido
6. Boku ni de Kirukoto
7. 21
8. Mirror
9. Signal
10. REFLECT
11. over the station
12. Kiwoku ~ unplugged ver. ~ [bonus track]