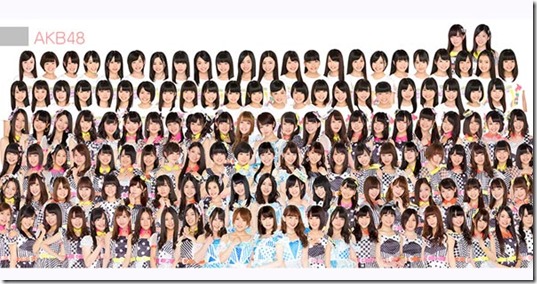 AKB48 announced their 38th single (untitled) at the end of their Janken Taikai (Rock-Paper-Scissors Tournament) held September 18th 2014. The 31 senbatsu members were revealed for the first time with co-centers Watanabe Mayu and Miyawaki Sakura (first time center position). The single comes on 4 pairs of editions scheduled for release on November 26th 2014 – read on for more details….
~ single titled – Kiboteki Refrain ~
AKB48 held their 5th annual Janken Taikai (Rock-Paper-Scissors Tournament) on September 18th 2014 with Watanabe Miyuki defeating Kojima Haruna in the final match. Unlike past tournaments that formed a single with the winner as center, Milky's reward is a debut solo single with Kojima leading the top 15 on the coupling track.
Fans normally get treated to a preview of the next single during the Janken Taikai but this year only the member selection was announced. Additionally, timing of the 38th single differs from past being released a month later at the end of November. AKB48 releases one less single this year which is probably a good thing as the Senbatsu Sousenkyo single, Janken single, and this one in-between made for three major releases in less than 4 months.
38th single centers: Watanabe Mayu (AKB48)(left), Miyawaki Sakura (HKT48/AKB48)(right)
38th single members*
AKB48
Team A: Kojima Haruna, Shimazaki Haruka, Takahashi Minami, Mutou Tomu, Iriyama Anna 
Team K: Kojima Mako, Tano Yuuka**, Yokoyama Yui 
Team B: Oshima Ryouka, Kashiwagi Yuki, Kawamoto Saya, Takahashi Juri, Owada Nana
Team 4: Kato Rena, Kizaki Yuria, Minegishi Minami, Mukaichi Mion
Team 8: Nakano Ikumi
SKE48
Team S: Matsui Jurina, Miyazawa Sae 
Team E: Suda Akari, Matsui Rena 
NMB48
Team N: Yamamoto Sayaka 
Team M: Shiroma Miru
Team BII: Watanabe Miyuki
HKT48
Team H: Kodama Haruka, Sashihara Rino 
Team KIV: Moriyasu Madoka 
Nogiazaka46
Ikoma Rina
*bold indicates first time selected to participate in a senbatsu for single lead track.
**Tano Yuuka participated on the 4th Janken Taikai single – finished #7 in the tournament.
AKB48's 38th single comes on 4 pairs of editions (details subject to change). The Limited editions include a handshake event ticket. Full track list, jacket covers, and more details coming!
AKB48 – 38th single (untitled) – release date November 26th 2014
Limited A [CD+DVD] (¥1524)


Regular A [CD+DVD] (¥1524)


[CD]
track list A undecided
[DVD]
music videos + bonus footage
[CD]
track list A undecided
[DVD]
music videos + bonus footage
Limited K [CD+DVD] (¥1524)


Regular K [CD+DVD] (¥1524)


[CD]
track list K undecided
[DVD]
music videos + bonus footage
[CD]
track list K undecided
[DVD]
music videos + bonus footage
Limited B [CD+DVD] (¥1524)


Regular B [CD+DVD] (¥1524)


[CD]
track list B undecided
[DVD]
music videos + bonus footage
[CD]
track list B undecided
[DVD]
music videos + bonus footage
Limited 4 [CD+DVD] (¥1524)


Regular 4 [CD+DVD] (¥1524)


[CD]
track list 4 undecided
[DVD]
music videos + bonus footage
[CD]
track list 4 undecided
[DVD]
music videos + bonus footage