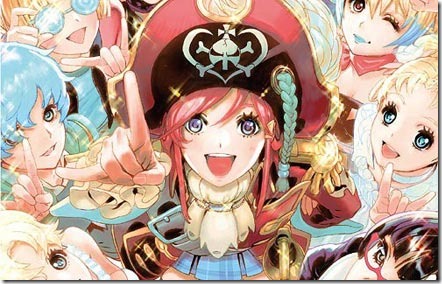 angela presents Shoko Nakagawa single KiraKira-go-round (キラキラ-go-round) has unveiled the jacket cover and full track list. The single is featured as the ending theme for anime movie Bodacious Space Pirates ABYSS OF HYPERSPACE – Aku no Shien. Single KiraKira-go-round comes on one CD-only edition hitting stores July 23rd 2014 – updated details follow.
Single KiraKira-go-round title track and coupling song are written and composed by angela and sung by Shoko Nakagawa (Shokotan).
Anime Bodacious Space Pirates is adapted from light-novels Mini-Skirt Uchū Kaizoku (Mini-Skirt Space Pirates) by Sasamoto Yuichi. The original anime ran 26 episodes January 2012 – June 2012. The movie features a new side story by Sasamoto and it premiered February 22nd 2014.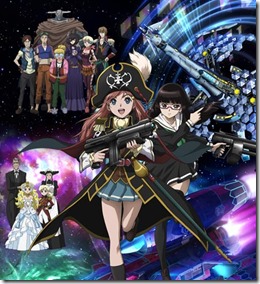 Anime studio Satelight produces and Komatsu Mikako (Marika Kato) with Kana Hanazawa (Chiaki Kurihara) star. Provider Crunchyroll simulcast the anime series – hit the link for Bodacious Space Pirates for episodes and related stories.
Idol group Momoiro Clover Z released digital single Moretsu Uchu Kokyokyoku Dai 7 Gakusho "Mugen no Ai" (Emperor Style) on June 4th 2014 that was featured as the opening theme for the movie. The song with different arrangement was originally featured as the opening theme for the anime's 2012 TV series.
Single KiraKira-go-round (キラキラ-go-round) comes on one edition with anime themed illustrated jacket cover. Most stores offer jacket cover sticker (while supplies last).
angela presents Shoko Nakagawa – KiraKira-go-round – release date July 23rd 2014
Regular [CD] (¥1200)


[CD]
1. KiraKira-go-round
lyrics: atsuko, composition: atsuko, KATSU, arrangement: KATSU

2. Story ga Hajimaru
3. KiraKira-go-round (off vocal)
4. Story ga Hajimaru (off vocal)
angela official website (Starchild)