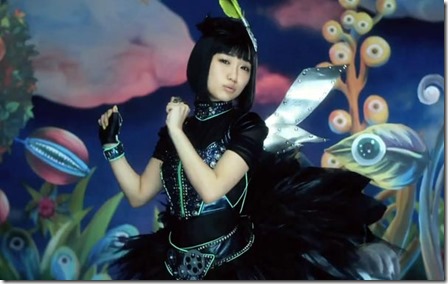 Aoi Yuuki (悠木碧) has unveiled preview music video and TVCM spot for single Cupid de Review (クピドゥレビュー). Her 2nd solo has tie-up as the opening theme for Kanojo ga Flag wo Oraretara (彼女がフラグをおられたら) and Aoi Yuuki voices supporting character Ginyuin Serika in the romantic comedy anime. Single Cupid de Review hits stores April 23rd 2014 – more info and preview videos follow.
Most recently Aoi Yuki released her 1st solo single VisuMania (ビジュメニア) with tie-up as the ending theme for anime World Conquest Zvezda Plot. Single VisuMania hit stores January 29th 2014 and climbed into the #19 spot on the weekly Oricon charts.
Aoi Yuki is also one-half of singing group petit milady with fellow voice actress/singer Ayana Taketatsu. They released 2nd single azurite on February 5th 2014 with tie-up as the opening theme for anime Toaru Hikushi he no Koiuta. Aoi Yuki and Ayana Taketatsu also voice the lead characters in the anime. They have also announced their first album Petitmiladear set for release on May 7th 2014.
Anime Kanojo ga Flag wo Oraretara is adapted from light novel series by Touka Takei and follows young boy Hatate Sota who can see the "flags" that mark the critical choices people often have to make in their lives. The romantic comedy anime features Ryota Ohsaka (Sota), Kana Hanazawa (Megumu), and Yoko Hikasa (Rin) along with Aoi Yuki (Ginyuin Serika).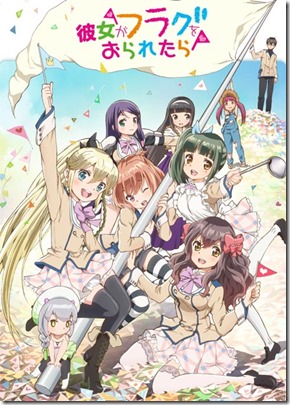 The anime begins airing in Japan on Tokyo MX April 6th 2014. No announcements yet on possible availability outside of Japan. The anime's ending theme Kanojo go Flag wo Tateru Riyu is provided by YELL formed with the 6 female voice cast members (more details).
Single Cupid de Review (クピドゥレビュー) comes on two editions. Track list includes bonus 5th song in character voice Ginyuin Serika. The Limited and First Press Regular editions include 8-page booklet, event participation ticket, and bonus photo (varies by store). Additional bonus clear mini-file for those purchasing this single and the ending theme single together.
Watch the preview music video and TVCM spot for the single below the release details.
Aoi Yuki – Cupid de Review – release date April 23rd 2014
Limited [CD+DVD] (¥1800)

Regular [CD] (¥1300)

[CD]
1. Cupid de Review
2. twinkAtrick
3. Cupid de Review
4. TwinkAtrick
5. 1st LOVE (Ginyuin Serika /  CV: Aoi Yuuki)
[DVD]
1. Cupid de Review (music video)
2. Making-of music video
[CD]
1. Cupid de Review
2. twinkAtrick
3. Cupid de Review
4. TwinkAtrick
5. 1st LOVE (Ginyuin Serika /  CV: Aoi Yuuki)
Aoi Yuki Official website (JVC Music)