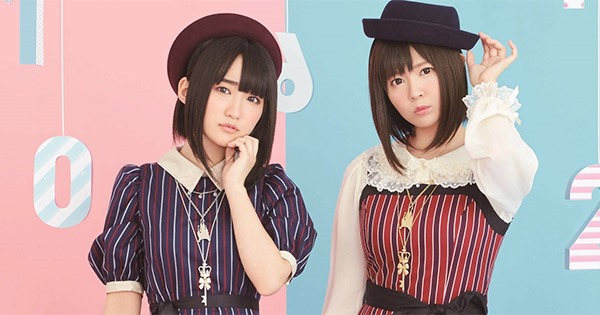 petit milady is getting ready to release album CALENDAR GIRL and revealed an album songs digest video along with preview music videos and bonus details. The unit's 3rd original album includes two singles plus new songs for 12 total tracks. Album CALENDAR GIRL comes on three editions hitting stores July 27th 2016.
Unit petit milady is formed by voice actors Aoi Yuuki (悠木 碧) and Ayana Taketatsu (竹達彩奈). Most recently they released 6th single Seishun wa Tabemono desu (青春は食べ物です) on May 4th 2016. The single has tie-up as theme for anime Pan de Peace! (パンでPeace!).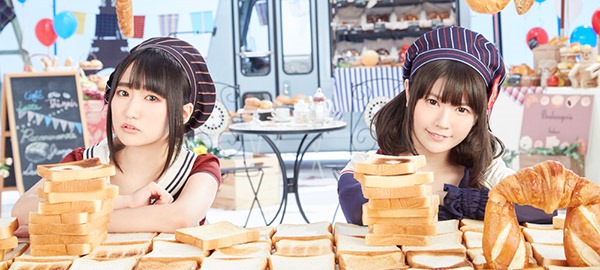 Album CALENDAR GIRL comes on three editions. Limited A includes jacket cover calendar and special bonus content on DVD. First Press on all editions adds launch event application ticket.
Launch event locations – more details on application ticket,
– August 20th 2016 Aruaru City Yubinbango Fukuoka
– August 20th 2016 Buken Taiko 3 Nagoya
– August 21st 2016 Hamagin Hall Via Mare Yokohama
Most stores offer purchase bonus – type and availability varies by store (cdJapan photo sample),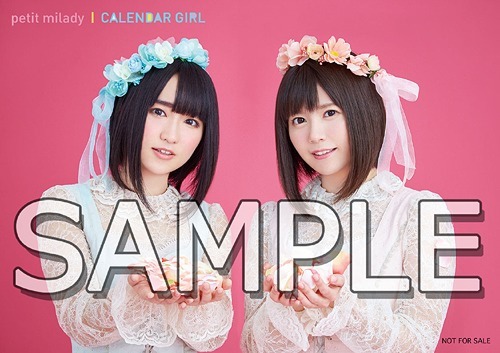 All album songs teaser video plus music video for Seishun wa Tabemono desu and preview music video for Hakone Hakoiri Musume after the release details.
petit milady – CALENDAR GIRL – release date July 27th 2016
| | |
| --- | --- |
| Limited [CD+DVD] (¥7500) | Limited B [CD+BD] (¥4800) |
[CD]
1. Seishun wa Tabemono desu (6th sgl) (青春は食べ物です)
2. Daisuki. Arigoto. (大好き。ありがとう。)
3. rainy! rainy! rainy!
4. #Kareshi Imashen (#彼氏いません)
5. Himawari no Sakamichi (向日葵の坂道)
6. Hakone Hakoiri Musume (5th sgl) (ハコネハコイリムスメ)
7. Halloween Arbiter (はろうぃんあるばいたー)
8. SNOW // SLASH
9. Hijiri Sylvestre no Table (聖シルヴェストルのテーブル)
10. Kujira no Senaka (クジラの背中)
11. Chocolate Boogie Woogie (チョコレイト・ブギウギ)
12. Sakura no Door (桜のドアを)

[DVD]
1. Himawari no Sakamichi  (music video)
2. petit milady Emergency Mission in Paris (Aoi P and Ayana P arbitrarily made spot)

[BD]
1. Hakone Hakori Musume (music video)
2. Seishun wa Tabemono desu (music video)
3. Himawari no Sakamichi  (music video)
| | |
| --- | --- |
| Regular [CD] (¥3000) |   |
[CD]
1. Seishun wa Tabemono desu (6th slg) (青春は食べ物です)
2. Daisuki. Arigoto. (大好き。ありがとう。)
3. rainy! rainy! rainy!
4. #Kareshi Imashen (#彼氏いません)
5. Himawari no Sakamichi (向日葵の坂道)
6. Hakone Hakoiri Musume (5th sgl) (ハコネハコイリムスメ)
7. Halloween Arbiter (はろうぃんあるばいたー)
8. SNOW // SLASH
9. Hijiri Sylvestre no Table (聖シルヴェストルのテーブル)
10. Kujira no Senaka (クジラの背中)
11. Chocolate Boogie Woogie (チョコレイト・ブギウギ)
12. Sakura no Door (桜のドアを)
Aoi Yuuki Official site (JVC Music)
petit milady at Universal Music site