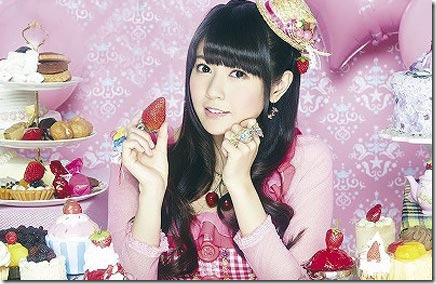 Ayana Taketatsu (竹達彩奈) has updated the release details for new single Wonderful World – jacket covers, bonuses, and PV unveiled. Her 5th single is a collaboration with Kato Kanako (lyrics) and Kobayashi Shuntaro (music) and described as a fun pop-tune perfect for summer. Single Wonderful World hits stores June 4th 2014 – updated details and PV music video follow.
Voice actress and singer Ayana Taketatsu has voiced key rolls in popular anime Sword Art Online (Kirigaya/Leafa), K-ON! (Azusa Nakano), and Oreimo (Kirino). She is currently voicing Itsuka Kotori in Date A Live season 2. She is also one-half of singing group petit milady with fellow voice actress/singer Aoi Yuuki and they just released first album Petitmiladear (プチミレディア) on April 30th 2014.
Most recently Ayana Taketatsu released 4th solo single Shumatsu Cinderella on December 4th 2013.
To celebrate the new single selected stores are holding talk and single delivery events with Ayana Taketatsu. Purchasers of either edition of the single at the target store can enter ticket lottery for event(s),
– June 7th 12:30pm, 3:30pm, June 8th 12:30pm Gamers Tokyo
– June 8th 3:30pm Toranoana, Tower Records, HMV, and more Tokyo (includes mini-live!)
– June 14th 12:30, 3:30pm Gamers Nagoya
– June 15th 12:30pm, 3:30pm Gamers Osaka
Single Wonderful World comes on two editions that share the same CD-track list. Most stores offer a bonus photo while supplies last,
Ayana Taketatsu – Wonderful World – release date June 4th 2014
Limited [CD+DVD] (¥1750)

Regular [CD] (¥1250)

[CD]
1. Wonderful World
lyrics: Kato Kanako, music: Kobayashi Shuntaro

2. Surf de GoGoGo
lyrics, music: Okii Reiji

3. Wonderful World (off vocal)
4. Surf de GoGoGo (off vocal)
[DVD]
1. Wonderful World (music video)

[CD]
1. Wonderful World
2. Surf de GoGoGo
3. Wonderful World (off vocal)
4. Surf de GoGoGo (off vocal)
PV 5th single Wonderful World
Ayana Taketatsu Official website