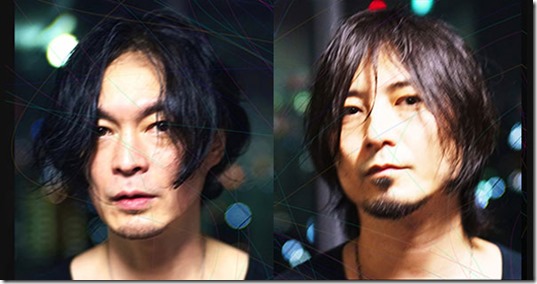 BOOM BOOM SATELLITES announced new album SHINE LIKE A BILLION SUNS planned to include 10 tracks. Its their 9th original album and first since album EMBRACE (2013.01.09). Album SHINE LIKE A BILLION SUNS comes on two editions scheduled for release February 4th 2015 – read on for more early details.
The group also announced live event SHINE LIKE A BILLION SUNS Premium GIG for March 15th 2015 at EX Theater Roppongi. Early ticket sales are open now until December 8th 2015 (link below). This past July 2014 BOOM BOOM SATELLITES revealed they will provide the opening theme BACK IN BLACK for anime project Ninja Slayer (more details). The anime is currently planned for Spring 2015.
In 2013 the band celebrated their 15th anniversary with the release of album 8th original album EMBRACE and a planned 2013 national concert tour. Unfortunately health issues suffered by Kawashima Yuchiyuki (G, VO) forced them to cancel all of their January – May 2013 shows. Following Kawashima's recovery they decided to hold their planned May 2013 Nippon Budokan show.
Most recently BOOM BOOM SATELLITES released digital single ONLY BLOOD on August 6th 2014. The song was used as special trailer music for movie MONSTERZ that debuted May 30th 2014. Music video for ONLY BLOOD after release details (unknown if it will be part of the new album).
Album SHINE LIKE A BILLION SUNS comes on two editions (details subject to change). Limited includes bonus CD. Full track list, jacket covers, and more details coming.
BOOM BOOM SATELLITES – SHINE LIKE A BILLION SUNS – release date February 4th 2014
Limited [CD+CD] (¥3500)


Regular [CD] (¥3000)


[CD1]
1. SHINE
2. – 10. contents undecided
[CD2]
contents undecided
[CD]
1. SHINE
2. – 10. contents undecided
BOOM BOOM SATELLITES Official website
EPLUS ticket sales BBS Premium GIG