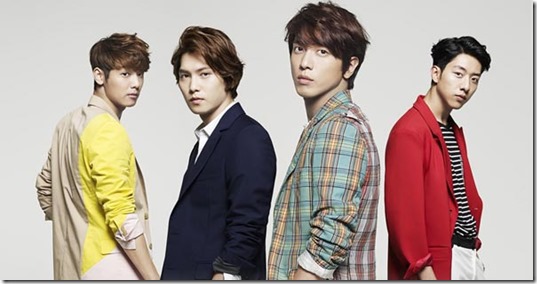 CNBLUE added more release details for album WAVE – jacket covers, bonus details, and full music video for new song Radio unveiled. Their 3rd Japanese album includes singles Truth and Go your way plus new songs and more for 11 total tracks. Album WAVE comes on four editions hitting stores September 17th 2014 – updated details and PV follow.
Korean band CNBLUE just released their 8th Japanese single Go your way on August 20th 2014 (more details). Previously they released single Truth on April 23rd 2014 and their 2nd Japanese album What turns you on? about one year ago on August 28th 2013 (more details).
CNBLUE announced an arena tour in conjunction with their upcoming album – CNBLUE 2014 ARENA TOUR "WAVE" with 8 performances at 5 venues,
– October 29th & 30th 2014 Nippon Budokan, Tokyo
– November 5th & 6th 2014 Osaka Castle Hall
– November 15th 2014 Sekisui Heim Super Arena, Miyagi
– November 26th 2014 Marine Messe Fukuoka 
– December 3rd & 4th 2014 NGK Hall, Aichi
Album WAVE comes on four editions. Each includes a different type application code for awards lottery. Fans submitting 3 types of codes are entered into lottery for one of two awards at each venue of their upcoming arena tour.
– Award A 100 persons premium autograph session at each venue (500 total)
– Award B 200 persons rehearsal performance viewing at each performance (1600 total)
Watch the full music video for song Radio after the release details.
CNBLUE – WAVE – release date September 17th 2014
Limited A [CD+DVD] (¥3800)


Limited B [CD+DVD] (¥3800)


[CD]
1. Intro
2. Radio
3. Go your way
4. Truth
5. Foxy
6. Lonely Night
7. Still
8. Paradise
9. Angel
10. Control
11. How Awesome
[DVD]
1. Radio (music video)
2. Radio (special footage)
3. Radio ( shooting of solo cut – Yong Hwa, Jong Hyun, Min Hyuk, Jung Shin)
[CD]
1. Intro
2. Radio
3. Go your way
4. Truth
5. Foxy
6. Lonely Night
7. Still
8. Paradise
9. Angel
10. Control
11. How Awesome
[DVD]
1. LIVE from SUMMER SONIC 2014 (second half)
– Coffee shop
– I'm sorry
– Lady
– Special Feature
Regular [CD] (¥3000)


BOICE Fan Club [CD+DVD] (¥3800)

[CD]
1. Intro
2. Radio
3. Go your way
4. Truth
5. Foxy
6. Lonely Night
7. Still
8. Paradise
9. Angel
10. Control
11. How Awesome
[CD]
1. Intro
2. Radio
3. Go your way
4. Truth
5. Foxy
6. Lonely Night
7. Still
8. Paradise
9. Angel
10. Control
11. How Awesome
[DVD]
1. Official Fan meeting 2014 (second half)
– Truth
– I'm sorry
– Lady
CNBLUE Official website (Japanese)