November 11, 2014
-
toyNN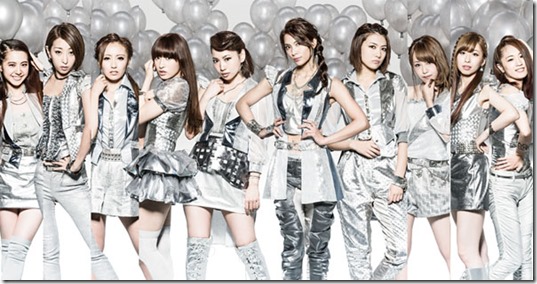 DiVA released their first and final album the self-titled DIVA on November 5th 2014. The album includes their singles plus new songs written by members and one provided by Oshima Yuko. Album DIVA comes on three editions each with a different track list – read on for more details.
AKB48 unit DiVA announced back on August 14th 2014 that the unit would officially break-up with a final single and final album releases. The releases re-unite all members, Miyazawa Sae (SNH48/SKE48), Umeda Ayaka (NMB48), Akimoto Sayaka (graduated), Masuda Yuka (graduated) along with the 6 dance-unit members (Kasuya Satoko, Futami Yuki, Furukawa Atsuko, Fukuno Ramu, Inoue Yuina, and Yamagami Ayaka) who were added at their 3rd single.
Their 4th and final single DISCOVERY released October 8th 2014 (more details) and landed at #4 on the weekly Oricon charts.
Handshake event tied to single DISCOVERY is scheduled for November 30th 2014 1:00pm – 8:00pm (4 sessions) at Makuhari Messe. Fans purchasing both the final single and album receive ticket application for a live event scheduled following the handshake event on November 30th 2014 at Makuhari Messe.
Album details with song writing credits plus the album promo video below.
DiVA – DIVA – release date November 5th 2014
Limited A [CD+DVD] (¥4000)


Limited B [CD+DVD] (¥4000)


[CD]
1. Tsuki no Uragawa
lyrics: Akimoto Yasushi

2. Cry
lyrics: Akimoto Yasushi

3. Lost the way
lyrics: Akimoto Yasushi

4. DISCOVERY
lyrics: Tetsuya Komuro
 
5. DIVA!
lyrics: Miyazawa Sae

6. Osuki + Daikirai = Daisuki (Sae Miyazawa, Umeda Ayaka)
lyrics: Umeda Ayaka

7. WOW WAR TONIGHT ~ Tokiniha Okosuyo Movement ~
lyrics: Tetsuya Komuro

8. Hitori Omoi
lyrics: Akimoto Sayaka

9. You should know it.. (Sayaka Akimoto, Masuda Yuka) 
lyrics: Masuda Yuka

10. Mousou Cinderella
lyrics: Kasuya Satoko, Futami Yuki, Furukawa Atsuko, Fukuno Ramu, Inoue Yuina, and Yamagami Ayaka

11. For tenderness
lyrics: Oshima Yuko

[DVD]
1. Tsuki no Uragawa (music video)
2. Cry (music video)
3. Lost the way (music video)
4. WOW WAR TONIGHT ~ Tokiniha Okoseyo Movement ~ (music video)
5. DISCOVERY (music video)

[CD]
1. DIVA!
2. No way out
3. DISCOVERY
4. You should know it..
5. Kanashimi no Mirage
6. Hitori Omoi
7. WOW WAR TONIGHT ~ Tokiniha Okosuyo Movement ~
8. Osuki + Daikirai = Daisuki
9. Mousou Cinderella
10. Information
11. For tenderness
[DVD]
1. DIVA Special Live at Zepp Tokyo (2012.05.15)
Limited C [CD+DVD] (¥4000)


[CD]
1. DIVA!
2. DISCOVERY
3. Fade out
4. Kanashimi no Mirage
5. Hitori Omoi
6. You should know it..
7. WOW WAR TONIGHT ~ Tokiniha Okosuyo Movement ~
8. Chi Gesuidou
9. Osuki + Daikirai = Daisuki
10. Mousou Cinderella
11. For tenderness
[DVD]
1. DiVA members interview ~ Questions and Answers ~