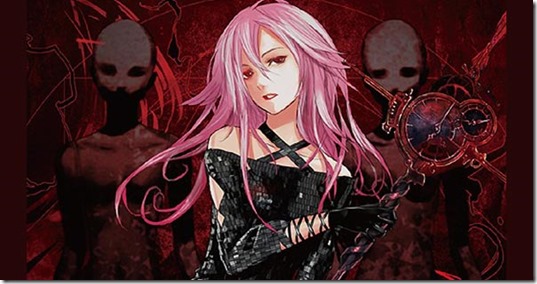 EGOIST updated the release details for single Fallen – jacket covers, full track list, and more unveiled. The unit's 5th single has tie-up as the first ending theme for anime PSYCHO-PASS season 2. Single Fallen comes on two editions hitting stores on November 19th 2014 – updated details follow.
~ PV revealed ~
Unit EGOIST, lead by the talented ryo (supercell) with vocals provided by chelly, provided the first season of PSYCHO-PASS's ending themes Namae no nai Kaibutsu (3rd single, 2012.12.05) and All Alone With You (4th single, 2013.03.06).
Originally formed for anime Guilty Crown on which ryo was the musical director, EGOIST's first two singles Departures and The Everlasting Guilty Crown were the anime's first ending theme and second opening theme respectively.
Anime PSYCHO-PASS is an original anime and part of the Fuji TV Noitamina broadcasting slot. The story takes place in the near future where its possible to quantify a person's state of mind and personality – a person's "psycho-pass". Season 2 continues the story with special police unit officer Tsunemori Akane who has accepted the societal Sybilla System and is about to encounter a someone who will shake this system to its core.
The anime's features Kana Hanazawa continuing in the roll of Tsunemori and begins airing October 9th 2014 in Japan. Outside of Japan it will be available, along with season 1 (2012), at Funimation.com (North America).
The opening theme is provided by Ling tosite Sigure (凛として時雨) with 4th single Enigmatic Feeling.
Single Fallen comes on two editions. Jacket covers feature artwork by redjuice and Limited includes deluxe packaging and bonus sticker.
Watch the new trailer for anime PSYCHO-PASS with a preview of ED Fallen after the release details.
EGOIST – Fallen – release date November 19th 2014
Limited [CD+DVD] (¥1574)


Regular [CD] (¥1204)


[CD]
1. Fallen
2. 1.4.2
3. Fallen (TV-size)
4. Fallen (off vocal)
5. 1.4.2 (off vocal)
6. Fallen (TV-size, off vocal) 
[DVD]
1. Fallen (music video)
2. ending animation PSYCO-PASS (textless)
[CD]
1. Fallen
2. 1.4.2
3. Fallen (TV-size)
4. Fallen (off vocal)
5. 1.4.2 (off vocal)
6. Fallen (TV-size, off vocal)