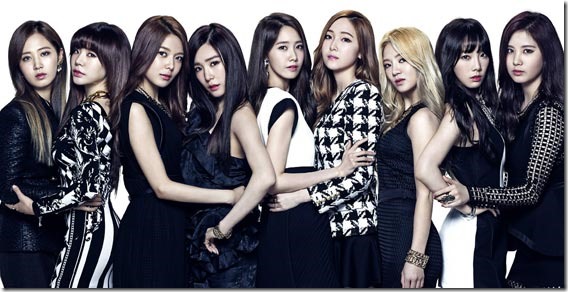 GIRLS' GENERATION (SNSD) unveiled the official details for their Japanese greatest hits album THE BEST – jacket covers, track list, and bonuses revealed. The album comes on three editions including a special Limited with Blu-ray (230min) and bonus CD with member selected track list. Album THE BEST releases on July 23rd 2014 – read on for all the details and pre-order.
Most recently in Korea SNSD released 4th mini album Mr.Mr. in February 2014. A Japanese version of Mr.Mr. plus new song Indestructible are is included on the greatest hits album.
In Japan GIRLS' GENERATION released 3rd album LOVE & PEACE on December 11th 2013. The album includes new song My oh My, singles GALAXY SUPERNOVA, LOVE & GIRLS, plus more new songs for 12 total tracks. Album LOVE & PEACE hit #1 on the weekly Oricon charts.
The group currently is in the middle of a national tour – GIRLS' GENERATION 〜LOVE & PEACE 〜 Japan 3rd Tour 2014 that began April 26th 2014 and hits 7 venues with 17 performances,
– April 26th, 27th 2014 Marine Messe Fukuoka
– May 6th, 7th 2014 Green Arena Hiroshima
– May 23rd, 24th, 25th 2014 World Hall Kobe
– June 5th, 6th 2014 Rainbow Hall Nagoya
– June 19th, 20th, 21st 2014 Osakajo Hall Osaka
– June 28th, 29th 2014 Super Arena Saitama
– July 11th, 12th, 13th 2014 National Stadium Yoyogi
Album THE BEST comes on three editions (details subject to change).
– Special Limited A edition includes Blu-ray with 230 minutes of music videos and more. Plus bonus CD with track list selected by SNSD. Comes in vinyl record size box, large trading card set (9 of 9), large 64-page photo book, and bonus CD tracks HOOT and THE BOYS.
– Limited B with DVD containing 130 minutes of music videos, interviews, and making-of footage. Deluxe packaging with 64-page photo booklet. First Press version adds photo card.
Full track lists coming – follow Comtrya Sugoi for updates. The full music video for Mr.Mr. (Korean,dance ver.) with over 22 million views follows below.
GIRLS' GENERATION – THE BEST – release date July 23rd 2014 : More details coming!
Limited A [2CD+BD] (¥12000)


Limited B [CD+DVD] (¥4500)


[CD]
1. GENIE
2. Gee
3. Run Devil Run
4. MR. TAXI
5. BAD GIRL
6. HOOT
7. THE BOYS
8. Time Machine
9. PAPARAZZI
10. Oh!
11. ALL MY LOVE IS FOR YOU
12. FLOWER POWER
13. BEEP BEEP
14. LOVE & GIRLS
15. GALAXY SUPERNOVA
16. My Oh My
17. Mr. Mr. (Japanese ver.)(new)
18. Indestructible (new)

[CD2]
Member's favorite songs (undecided)

[BD] (230min)
Japanese Music video collection
Documentary footage
Making of THE BEST
Interviews
Live Performances
Korean/English Music video collection

[CD]
1. GENIE
2. Gee
3. Run Devil Run
4. MR. TAXI
5. BAD GIRL
6. Time Machine
7. PAPARAZZI
8. Oh!
9. ALL MY LOVE IS FOR YOU
10. FLOWER POWER
11. BEEP BEEP
12. LOVE & GIRLS
13. GALAXY SUPERNOVA
14. My Oh My
15. Mr. Mr. (Japanese ver.)
16. Indestructible

[DVD]
Japanese Music video collection
Interviews
Making of THE BEST

Regular [CD] (¥2500)


 
[CD]
1. GENIE
2. Gee
3. Run Devil Run
4. MR. TAXI
5. BAD GIRL
6. Time Machine
7. PAPARAZZI
8. Oh!
9. ALL MY LOVE IS FOR YOU
10. FLOWER POWER
11. BEEP BEEP
12. LOVE & GIRLS
13. GALAXY SUPERNOVA
14. My Oh My
15. Mr. Mr. (Japanese ver.)
16. Indestructible
 
Girls Generation official Japanese website
Girls Generation at Universal Music Japan