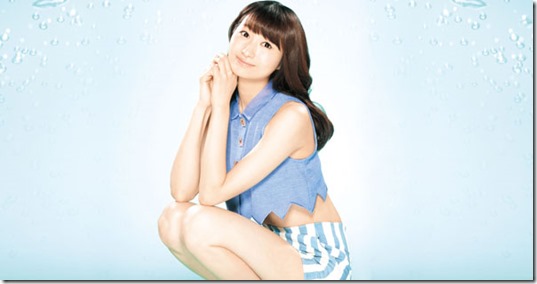 Haruka Tomatsu announced she's providing the second opening theme – courage – for anime Sword Art Online season 2. She also continues in the key supporting roll of Asuna in the popular anime. Her 14th single courage is planned for three editions scheduled for release on December 3rd 2014 – more early details follow.
~ jacket covers and audio preview unveiled ~
Most recently singer and voice actor Haruka Tomatsu released 13th single Fantastic Soda!! on July 30th 2014. It includes coupling track In Our Hands is featured as theme song for RPG game Breath of Fire 6 "Guardians of the White Dragon".
Haruka Tomatsu, also part of popular unit Sphere, with other voice actors Minako Kotobuki, Aki Toyosaki, and Ayahi Takagaki. They released 4th album 4 colors for you on June 25th 2014 and are in the middle of Sphere's Eternal Live Tour 2014. Sphere also recently announced a Best Album planned for release in early 2015. Fans can vote now for their favorite songs at special site with top voted songs included on the release. More details at special site (link below).
The second anime adaption of Sword Art Online (SAO II) from light novels by Reki Kawahara (illustrated by abec) started with novels 5 & 6 (Phantom Bullet) set in the Gun Gale Online game world where guns are the main focus. The adaption continues with novels 7 (Mother's Rosario) & 8 (Caliber) adapted as the Mother's Rosary and Caliber arcs with the Caliber arc airing first.
Sword Art Online II started July 5th 2014 and is wrapping up the Phantom Bullet arc with the Caliber arc starting October 18th 2014 and the Mother's Rosary starting November 8th 2014. The anime airs in Japan on Tokyo MX and outside of Japan provider Crunchyroll simulcasts to most territories. Check our Crunchyroll updates page or hit the link for Sword Art Online for episode links and related stories.
A new ending theme is provided by LiSA with her 7th single シルシ (Shirushi) due out December 10th 2014 (more details).
Single courage comes on three editions (details subject to change). Information is still early – jacket covers, full track list and more coming!
Haruka Tomatsu – courage – release date December 3rd 2014
Limited [CD+DVD] (¥1713)


Limited Anime [CD+DVD] (¥1713)


[CD]
1. courage
2. undecided
3. courage (off vocal)
4. undecided (off vocal)
[DVD]
1. courage (music video)
2. undecided
[CD]
1. courage
2. undecided
3. courage (off vocal)
4. undecided (off vocal)
5. courage (TV-size)
[DVD]
1. opening animation (textless)
Regular [CD] (¥1241)


 
[CD]
1. courage
2. undecided
3. courage (off vocal)
4. undecided (off vocal)
 
Haruka Tomatsu Official website
Sphere Official website (Planet Sphere)
Sword Art Online (USA)