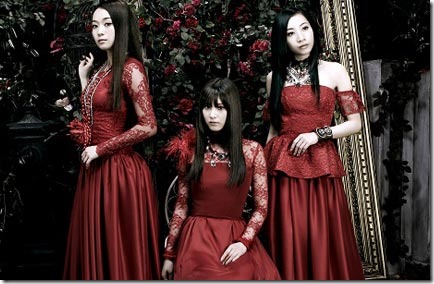 Kalafina has announced a pair of greatest hits albums – THE BEST "Red" and THE BEST "Blue". The albums each contain 15 of their best songs with the "Red" version including a new song (undecided). Both Kalafina THE BEST albums release July 16th 2014 – read on for more details and message from Kalafina.
Kalafina also announced they are providing the opening theme for upcoming anime Aldnoah.ZERO with new song heavenly blue. No details yet on a single release.
Most recently Kalafina released 14th single Kimi no Gin no Niwa on November 6th 2013 (more details). The single has tie-in as the main theme song for anime movie Puella Magi Madoka Magica Rebellion.
Created and produced by Yuki Kajiura, Kalafina originally formed to provide theme songs for anime OVA series Garden of Sinners. The Kalafina trio includes two members (Keiko and Wakana) from Yuki Kajiura's other project FictionJunction along with new member Hikaru. They debut in 2008 with single "oblivious" and provided all 8 theme songs for the Garden of Sinners anime movie series.
Kalafina's THE BEST "Red" and THE BEST "Blue" each come on two editions. The Limited editions include 60-page photo booklet. New song included on "Red" versions will be updated when announced.
Video message from Kalafina announcing their greatest hits albums follow below the release details.
Kalafina – THE BEST "Red" and THE BEST "Blue" – release date July 16th 2014
Limited "Red" [CD+BD] (¥4000)


Regular "Red" [CD] (¥3000)


[CD]

1. (New song)
2. misterioso
3. Hikari no Senritsu
4. Lacrimosa
5. Aria
6. Kagayaku sora no shijima ni wa
7. moonfesta
8. Hikaru Furu
9. oblivious
10. ongaku
11. consolation
12. mune no yukue
13. Yume no Daichi
14. Eden
15. Alleluia

[BD]
1. 5th Anniversary Live (January 2013)

[CD]

1. (New song)
2. misterioso
3. Hikari no Senritsu
4. Lacrimosa
5. Aria
6. Kagayaku sora no shijima ni wa
7. moonfesta
8. Hikaru Furu
9. oblivious
10. ongaku
11. consolation
12. mune no yukue
13. Yume no Daichi
14. Eden
15. Alleluia

Limited "Blue" [CD+BD] (¥4000)


Regular "Blue" [CD] (¥3000)


[CD]

1. storia
2. kimi no gin no niwa
3. Red Moon
4. Magia
5. seventh heaven
6. signal
7. natsu no ringo
8. sprinter
9. I have a dream
10. mirai
11. manten
12. snow falling
13. to the beginning
14. symphonia
15. Heavenly Blue

[BD]
1. Lisuani! LIVE-4 Nippon Budokan (January 2014)

[CD]

1. storia
2. kimi no gin no niwa
3. Red Moon
4. Magia
5. seventh heaven
6. signal
7. natsu no ringo
8. sprinter
9. I have a dream
10. mirai
11. manten
12. snow falling
13. to the beginning
14. symphonia
15. Heavenly Blue
Kalafina THE BEST special website