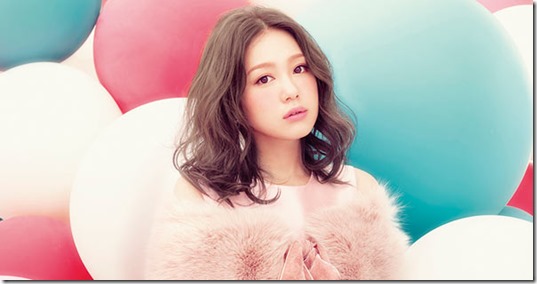 Kana Nishino (西野カナ) is getting ready to release her 5th original album with LOVE and recently unveiled the jacket covers, full track list, and bonus details. Her first original album over two years includes singles, new songs, and more for 14 total tracks. Album with LOVE comes on two editions hitting stores November 12th 2014 – all the details follow.
Most recently Kana Nishino (25) released single and album lead song Suki (好き) on October 15th 2014. Her 25th single gets tie-up as the theme song for Fuji TV's daily wake-up show Mezamashi TV. She previously released 24th single Darling on August 13th 2014 that was the theme song for Fuji TV Mezamashi TV since April 2014.
She last released original album Love Place over two years ago on September 5th 2012. A year ago Kana Nishino released a pair of greatest hits albums on September 4th 2013: Love Collection ~ mint ~ and Love Collection ~ pink ~. The albums ranked #11 & #12 on the top selling albums for 2013 (Oricon album charts 2013).
Album with LOVE includes three singles,
– Sayonara (22nd) released October 23rd 2013
– We Don't Stop (23rd) released May 21st 2014
– Darling (24th) released August 13th 2014
– Suki (25th) released October 15th 2014
Original album with LOVE comes on two editions. Both editions include goods lottery postcard and flyer for priority ticket ordering for Kana Nishino's Arena Tour 2015 with LOVE tour.
The goods lottery has entry deadline of November 24th 2014,
– 50 persons original with LOVE tote bag
– 100 autographed big poster
Kana Nishino – with LOVE – release date November 12th 2014
Limited [CD+DVD] (¥3333)


Regular [CD] (¥2870)


[CD]
1. Prologue ~ You & Me ~
2. Darling
3. Koisuru Kimiochi
4. We Don't Stop
5. Love Is All We Need
6. Suki
7. Gomenne
8. Tough Girl
9. Abracadabra
10. LOVE & JOY
11. 25
12. Sayonara
13. Stand Up
14. Epilouge ~ with LOVE ~
[DVD]
1. Sayonara (music video)
2. Sayonara making-of music video
3. We Don't Stop (music video)
4. We Don't Stop making-of music video
5. Darling (music video)
6. Darling making-of music video
7. Suki (music video)
8. Suki making-of music video
2. making-of music video documentary
[CD]
1. Prologue ~ You & Me ~
2. Darling
3. Koisuru Kimiochi
4. We Don't Stop
5. Love Is All We Need
6. Suki
7. Gomenne
8. Tough Girl
9. Abracadabra
10. LOVE & JOY
11. 25
12. Sayonara
13. Stand Up
14. Epilouge ~ with LOVE ~