December 20, 2014
-
toyNN
Kanon Wakeshima (分島 花音) recently announced new album Tsukinami (ツキナミ) that includes tracks from 4 singles plus new songs for 11 total tracks. Her 3rd album Tsukinami comes on two editions scheduled for release on February 25th 2015. Read on for more details.
Cellist, singer, and songwriter Kanon Wakeshima (26) most recently released 6th single world's end, girl's rondo on October 15th 2014. The single has tie-up as opening theme for anime selector spread WIXOSS. Previously in 2014 she released 5th single killy killy Joker (2014.04.30) with tie-up as ED for selector infected WIXOSS and 4th single signal (2014.02.19) featured as ED2 for anime Strike the Blood.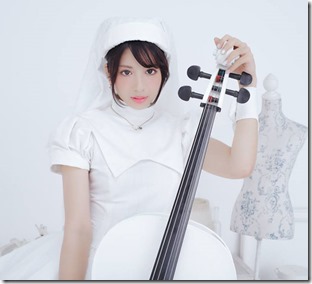 Her new album also includes both title tracks from 3rd single Foul Play ni Kurari / Sakura Meikyu (2012.11.07) which was her first solo release since 2010 and first since signing with Warner Music Japan. Track Foul Play ni Kurari has tie-up as ending theme for anime To Love-Ru Darkness.
Album Tsukinami (translation: common, cliché, mediocrity) comes on two editions (details subject to change). Limited comes in LP size case with paper jacket cover drawn by Kanon Wakeshima. CD track order and Blu-ray contents not final. Both editions planned to include additional bonuses.
Jacket covers and more details coming!
Preview music videos for world's end, girl's rondo, killy killy JOKER, and signal after the release details.
Kanon Wakeshima – Tsukinami (ツキナミ) – February 25th 2015
Limited [CD+BD] (¥4500)


Regular [CD] (¥2800)


[CD]
1. Foul Play ni Kurari (ED To LOVE-Ru Darkness)
2. Sakura Meikyuu (OP Fate/Extra CCC)
3. signal (ED Strike the Blood)
4. killy killy JOKER (OP selector infected WIXOSS)
5. world's end, girl's rondo (OP selector spread WIXOSS)
6. Sansukumi
7. Chocolate
8. Nightingale
9. Geijutsuka no Kawaii
10. Monster Star
11. Tsukinami
[BD] (planned track list)
1. signal (music video)
2. killy killy JOKER (music video)
3. world's end, girl's rondo (music video)
4. Tsukinami (music video)
[CD]
1. Foul Play ni Kurari
2. Sakura Meikyuu 
3. signal 
4. killy killy JOKER 
5. world's end, girl's rondo 
6. Sansukumi
7. Chocolate
8. Nightingale
9. Geijutsuka no Kawaii
10. Monster Star
11. Tsukinami