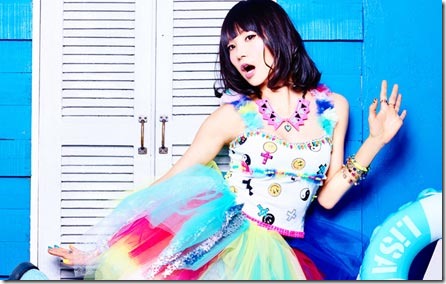 LiSA revealed details for her new double a-side single BRiGHT FLiGHT / L.Miranic announced during the launch of her LiVE is Smile Always ~ LANDSPACE~ tour June 21st at Akasaka BLITZ. Track BRiGHT FLiGHT is described as a bright fun pop tune in the color of pink while track L.Miranic will be a heavy rock song in the color of black. The single comes on two editions set for release on September 17th 2014 – more details follow…
~ updated details ~
The new single also includes coupling track Tokyo Love Song with LiSA for the first time writing and composing a coupling song.
Most recently LiSA released 5th single Rising Hope on May 7th 2014. The single has tie-up as the opening theme for popular anime The irregular at magic high school (魔法科高校の劣等生).
Previously she 2nd full length original album LANDSPACE on October 30th 2013 (more details) and is currently on live tour tied to the album, LiVE is Smile Always ~ LANDSPACE~ tour,
– June 21st 2014 Akasaka BLITZ
– June 22nd 2014 Sendai Rensa
– June 28th 2014 Sapporo cube garden
– July 5th 2014 Fukuoka DRUM LOGOS
– July 12th 2014 Zepp Namba
– July 13th 2014 Zepp Nagoya
Artist photos for new single reveal the dual-theme,
Double a-side single BRiGHT FLiGHT / L.Miranic comes on two editions (details subject to change). Limited comes in large-size case and includes DVD with music videos for both tracks plus two 24-page photo booklets themed for each title song.
Jacket covers and more details are coming – follow Comtrya Sugoi for updates.
LiSA – BRiGHT FLiGHT / L.Miranic – release date September 17th 2014
Limited [CD+DVD+photobooks] (¥2800)


Regular [CD] (¥1200)


[CD]
1. BRiGHT FLiGHT
2. L.Miranic
3. Tokyo Love Song
[DVD]
1. BRiGHT FLiGHT (music video)
2. L.Miranic (music video)
3. undecided
[CD]
1. BRiGHT FLiGHT
2. L.Miranic
3. Tokyo Love Song