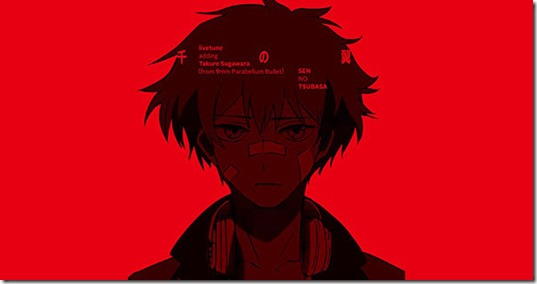 Anime Re:␣Hamatora opening theme Sen no Tsubasa (千の翼) has unveiled the jacket cover, full track list and audio preview. It's the 4th single of livetune (kz)'s "adding" series with vocals provided by Takuro Sugawara (from 9mm Parabellum Bullet). Single Sen no Tsubasa comes on one CD-only edition hitting stores September 3rd 2014 – updated details and audio preview follows.
The livetune unit now consisting of song producer kz gained popularity beginning in 2007 with vocaloid songs and began collaborations with live vocals with song Irony (2010) from ClariS. Their 3rd "adding" series of collaborations with live vocalists – FLAT adding Yuuki Ozaki from Galileo Galilei was featured as the opening theme for Hamatora's first season.
livetune also announced a new album TO (と) of the "adding" series containing the four singles plus new collaborations for 13 total tracks planned. Album TO (と) comes on two editions scheduled for release on September 10th 2014 (more details).
Anime Re:␣Hamatora (Re:␣ハマトラ(Reply Hamatora))continues the Hamatora joint manga x anime project by Yukinori Kitajima and Yuki Kodama. The story follows partners Nice and Murasaki of detective agency "Hamatora" – but currently their office is a table at a local cafe. They are hired by old friend and cop Art to help investigate an ongoing serial murder case. They uncover that the murder victims are all "Minimum Holders" – those possessing special hereditary powers. As Minimum Holders themselves, Nice and Murasaki are drawn into this case, whether they like it or not.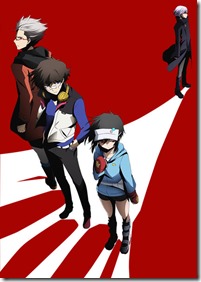 The anime's first season aired January – March 2014 and season 2 airs starting July 7th 2014 on TV Tokyo. Outside of Japan provider Crunchyroll simulcasts – check our Crunchyroll updates page or hit the link for Hamatora for episodes and related stories.
Single Sen no Tsubasa comes on one regular edition. Audio preview below and anime trailer after the release details.
livetune (kz) adding Takuro Sugawara (from 9mm Parabellum Bullet) – Sen no Tsubasa (千の翼) – release date September 3rd 2014
Regular [CD] (¥463)


[CD]
1. Sen no Tsubasa
(preview)

2. Sen no Tsubasa (off vocal)
9mm Parabellum Bullet official site