February 27, 2014
-
toyNN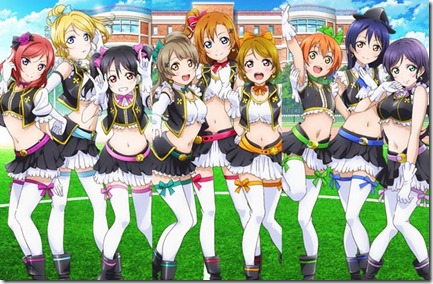 The Love Live! School Idol Project and its fictional idol group μ's (Muse) have announced two single releases for the upcoming second season of the anime. The singles are featured as then opening and ending theme songs respectively. No titles announced yet but each comes on one edition with the OP scheduled for release on April 23rd 2014, and ED on May 8th 2014 – read on for more early details…
~ OP updated – Sore ha Bokutachi no Kiseki ~
The fictional idol group μ's animated characters are voiced by voice actresses and singers who also perform live during special events. The nine members,
– Kosaka Honoka (CV: Emi Nitta)
– Sonoda Umi (CV: Suzuko Mimori)
– Minami Kotori (CV: Aya Uchida)
– Yazawa Nico (CV: Sora Tokui)
– Ayase Eli (CV: Nanjo Yoshino)
– Tojo Nozomi (CV: Aina Kusuda)
– Nishikino Maki (CV: Pile)
– Koizumi Hanayo (CV: Yurika Kubo)
– Hoshizora Rin (CV: Riho Iida)
Members Sora Tokui and Suzuko Mimori also provide voices and perform as part of Milky Holmes game and anime franchise.
Most recently μ's released single Takaramonozu (2014.01.29) with tie-up as the theme song for their smartphone game Love Live! School Idol Festival. Fans showed excellent support for the popular fictional unit pushing the single to the #4 spot on the weekly Oricon charts (nearly 37,000 copies sold).
Anime Love Live! began in 2010 as a joint project with studios Sunrise, Lantis, and Gengeki G Magazine as a fictional idol group with manga, animated music videos and CD music releases. The anime adaption first season 12 episodes aired starting January 2013 and a smartphone based game released April 2013.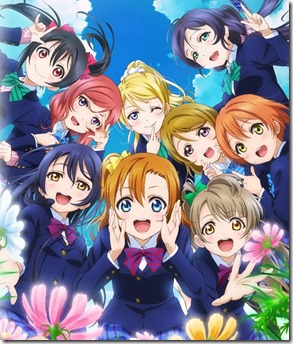 The anime's second season begins airing in Japan on Tokyo MX in April 2014. Outside of Japan no official information yet on the new season but the first season was simulcast and is available at provider Crunchyroll – check our Crunchyroll updates page for all the latest anime episodes or hit the link for Love Live! for episodes and related stories.
The anime OP and ED releases both include an illustrated jacket cover. The OP release includes a DVD and First Press version adds bonus. Details are early – full track list, jacket covers and bonus details will be updated when revealed. Promo videos for their most recent releases follow below the release info.
μ's (Muse) – OP (untitled) – release date April 23rd 2014 & ED (untitled) – release date May 8th 2014
OP Limited [CD+DVD] (¥2000)

ED Regular [CD] (¥1200)

[CD]
1. undecided (OP)
2. undecided (coupling)
3. undecided (off vocal)
4. undecided (off vocal)
[DVD]
1. OP animation (textless)
2. undecided
[CD]
1. undecided (ED)
2. undecided (coupling)
3. undecided (off vocal)
4. undecided (off vocal)