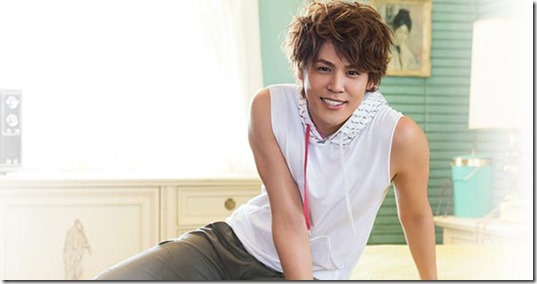 Mamoru Miyano revealed more details for his 11th single BREAK IT! – jacket cover, full track list, and more unveiled. The title song has tie-up as the opening theme for the 5th season of anime Cardfight!! Vanguard. Mamoru Miyano joins the cast voicing new key character Ibuki Kouji. Single BREAK IT! comes on one edition releasing November 12th 2014 – read on for all the details.
The new single includes three coupling tracks each with their own tie-up – tracks Magic and Marshmallow Love are featured as the OP & ED respectively for Mamoru Miyano's RADIO SMILE weekly radio show. Track VOICE has tie-up as the theme song for theme PSVita game Prince of Stride.
Popular voice actor and singer Mamoru Miyano (31) most recently released 10th single NEW ORDER with tie-up as the theme song for anime Wooser's Hand-to-Mouth Life: Awakening Arc on February 19th 2014.
Anime Cardfight!! Vanguard is a companion show for Bushiroad's card game of the same name. Now about to start its 5th season Cardfight!! Vanguard G continues the story centered around middle school student Sendou Aichi, his friends and people they meet and battle in the card game called "Vanguard".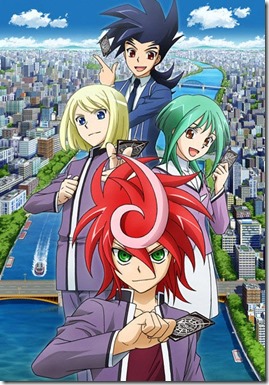 The anime is ongoing and season 5 starts October 26th 2014 on TV Tokyo in Japan and provider Crunchyroll simulcasts (past episodes available on demand). Check our Crunchyroll updates page for all the latest episodes or hit the link for Cardfight!! Vanguard for episodes and related stories.
Purchasers of the new single at selected stores get an application flyer for awards lottery. Awards include an autographed release poster or backstage pass to one of the 7 upcoming MAMORU MIYANO LIVE TOUR 2015 performances. The live tour starts at Shizuoka City Cultural Hall February 14th 2015 and ends with two performances March 14th & 15th 2015 at Nippon Budokan. Target stores include animate, Gamers, Toranoana stores, and others – check your store.
Single BREAK IT! comes on one CD-only edition. Most stores offer a bonus photo with purchase – image varies by store, while supplies last (sample Neowing/CDJapan, click to enlarge).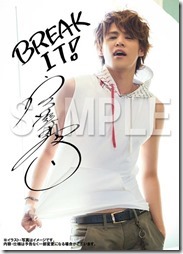 Mamoru Miyano – BREAK IT! – release date November 12th 2014
Regular [CD] (¥1400)


 
[CD]
1. BREAK IT! (OP Cardfight!! Vanguard G)
lyrics,music: STY

2. Magic (OP RADIO SMILE)
lyrics: Amon Hayashi, music: Jin Nakamura
 
3. Marshmallow Love (ED RADIO SMILE)
lyrics: Narimoto Tomomi, music: Kotaro Egami & Justin Moretz

4. VOICE (theme PSVita game Prince of Stride)
lyrics: ucio, music: TSUGE

 
Mamoru Miyano Official website
Cardfight Vanguard G website (TV Tokyo)