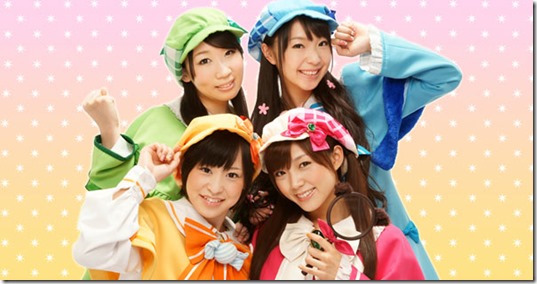 Milky Holmes Unit (ミルキィホームズ) is getting ready to release single Overdrive (オーバードライブ) with tie-up as the theme for smartphone game TOYS DRIVE. Their 9th single and coupling tracks were featured during the unit's live activities at the 2014 Tokyo Game Show. Single Overdrive comes on two editions hitting stores November 26th 2014 – read on for more details.
The Milky Holmes voice acting and singing unit held the Milky Holmes First Live ~ Welcome to Second Stage ~ during the 2014 Tokyo Game Show on September 20th 2014 at Makuhari Event Hall. The debuted the three songs on the single with title song Overdrive featured as the theme song for Bushiroad's TOYS DRIVE sound and battle RPG app for smartphones, coupling track Miru Miru UP↑ the opening theme for their variety show Miru Miru Milky, and coupling track HAPPY! Zekkocho featured during Milky Holmes Feathers!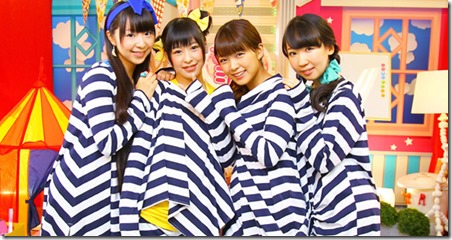 The Milky Holmes unit consists of Izumi Kitta, Suzuko Mimori, Sora Tokui, and Mikoi Sasaki. They provide the voices for the four main characters Sherlock, Nero, Hercule, and Cordelia for the game and anime adaptions of the Bushiroad Milky Holmes franchise. As a singing unit they have released singles and album plus perform live in costume as the Milky Holmes characters.
Most of their songs are connected to the two Milky Holmes (Tantei Opera Milky Holmes) anime seasons and several game releases as opening and ending themes. They also have provided a pair of ending themes for fellow Bushiroad game anime adaption Cardfight! Vanguard.
To support their new single Milky Holmes Barnstorming Series Overdrive has three live events planned,
– November 9th 2014 1:30 & 5:30pm Hitachi Hall Sendai
– November 16th 2014 5:00pm Kyoto Theater
– November 23rd 2014 1:00pm & 4:30pm IMS Hall Fukuoka
Single Overdrive comes on two editions. Both editions include application for ticket lottery to special live scheduled for December 21st 2014 7:00pm at Kagaku Gijutsukan Science Hall, Tokyo. Selected stores offer additional bonus (varies by store).
Preview video for game TOYS DRIVE featuring theme Overdrive plus promo video for the Milky Holmes First Live ~ Welcome to Second Stage ~  and Miru Miru Milky episode #5 all after the release details.
Milky Holmes – Overdrive (オーバードライブ) – release date November 26th 2014
Limited [CD+BD] (¥2000)


Regular [CD] (¥1500)


[CD]
1. Overdrive
2. Miru Miru UP↑
3. HAPPY! Zekkocho
4. Overdrive (off vocal)
5. Miru Miru UP↑ (off vocal)
6. HAPPY! Zekkocho
[BD]
1. Live debut of single Overdrive and digest footage captured at Milky Holmes First Live ~ Welcome to Second Stage ~ during the 2014 Tokyo Game Show on September 20th 2014
[CD]
1. Overdrive
2. Miru Miru UP↑
3. HAPPY! Zekkocho
4. Overdrive (off vocal)
5. Miru Miru UP↑ (off vocal)
6. HAPPY! Zekkocho
Milky Holmes Unit official site