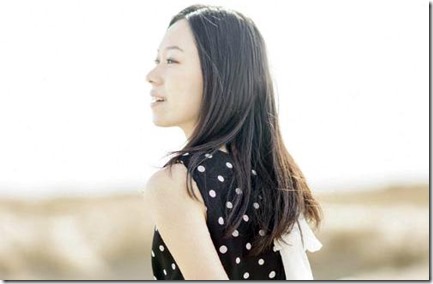 Minako Kotobuki (寿美菜子) is getting ready to drop new single Believe x. Her 7th single comes on two editions hitting stores April 16th 2016. She is also about to start her Minako Kotobuki Second Live Tour 2014 "make x". Single Believe x release details and tour information follow.
Voice actress and singer Minako Kotobuki (22) released her 6th solo single pretty fever on November 20th 2013 (more details). Previous she released her 5th single Prism and simultaneously released her first live Blu-ray/DVD that captures her First Live Tour 2012 "Our stride" on June 19th 2013 (more details).
Minako Kotobuki is also a member of the popular voice actress group Sphere along with Aki Toyosaki, Ayahi Takagaki, and Haruka Tomatsu. The group recently celebrated their 5th anniversary and will release 15th single single Kasuka na Hisoka na Tashika na Mirai (微かな密かな確かなミライ) with tie-up as the ending theme for upcoming anime Nanana's Buried Treasure (龍ヶ嬢七々々の埋蔵金, Ryūgajō Nanana no Maizōkin) on May 14th 2014.
Popular voice actress Minako Kotobuki may be best known for voicing the roll of Tsumugui Kotobuki in anime franchise K-ON!. She has also voice other memorable characters such as Karina/Blue Rose for Tiger & Bunny and Rikka/Cure Diamond for Dokidoki! Precure.
Her upcoming live tour Minako Kotobuki Second Live Tour 2014 "make x". now hits 4 venues with 5 performances. Tickets and more information at her official website (link below),
– May 6th 2014 5:00pm Tokyo International Forum Hall, Tokyo
– May 17th 2014 4:00pm International House Kokusaihour, Kobe
– May 25th 2014 5:00pm Prefectural Art Theater Great Hall, Aichi
– June 1st 2014 3:00pm Sonic City Omiya (added)
– June 1st 2014 6:30pm Sonic city Omiya
Single Believe x comes on two editions that share the same CD-track list. Limited edition and Regular First Press include slipcover and entry flyer. Selected stores offer bonus photo (while supplies last and varies by store),
Minako Kotobuki – Believe x – release date April 16th 2014
Limited [CD+DVD] (¥1713)


Regular [CD] (¥1241)


[CD]
1. Believe x
lyrics: Furuya Shin, composer: Horie Shota, arrangement: Ooyagihiroo

2. Kousaten (交差点)
lyrics,composer: Hoshimura Mai, arrangement: Saito Shinya

3. Believe x (off vocal)
[DVD]
1. Believe x (music video)
2. Believe x (TVCM spots)

[CD]
1. Believe x
lyrics: Furuya Shin, composer: Horie Shota, arrangement: Ooyagihiroo

2. Kousaten
lyrics,composer: Hoshimura Mai, arrangement: Saito Shinya

3. Believe x (off vocal)
Minako Kotobuki Official website