September 2, 2014
-
toyNN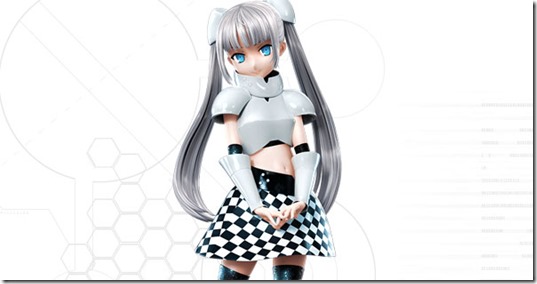 Miss Monochrome (Yui Horie) updated the details for single – Watashi dake no monogatari (私だけの物語) – full track list, jacket covers, and more unveiled. The fictional character's 2nd single has lyrics and music provided by dezzy. Single Watashi dake no monogatari comes on three editions hitting stores September 24th 2014 – updated details and more follows.
To celebrate the release of her 2nd single Miss Monochrome is making a guest appearance on anime Shonen Hollywood – HOLLY STAGE FOR 49 – episode 10. The episode airs September 6th 2014 in Japan and streams on provider Crunchyroll same day.
She has also entered the Yuru Chara Grand Prix 2014 with voting running from September 2nd – October 20th 2014. Check out her page and vote at special site (link below).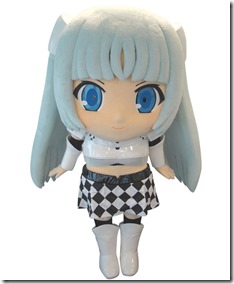 Miss Monochrome, based on a character created and voiced by Yui Horie, is an android from the distant past who wants to become a top-selling idol. The first anime ran 13 episodes during the Fall 2013 season (episodes available on Crunchyroll – hit the link for Miss Monochrome The Animation for episodes and related stories). Miss Monochrome provided the opening theme with her first single Poker Face that released January 29th 2014 (more details).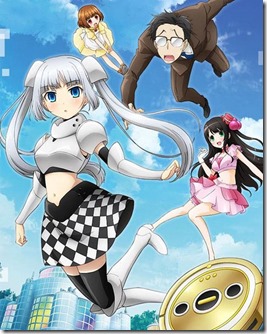 Singer and voice actor Yui Horie most recently released her 17th single The ♡ World's ♡ End on March 12th 2014. The title song and coupling track Haneikyu-teki ni Aishite yo ♡ are featured as OP2 / ED2 respectively for anime GOLDEN TIME.
Yui Horie announced the release of a new album (no title) on January 7th 2015 plus she will provide the ending theme (untitled) for the 3rd season of anime Dog Days (January 2015).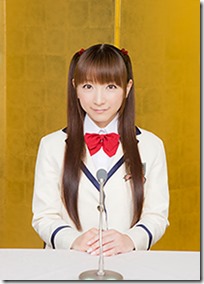 Yui Horie opened the ticket lottery for her annual special lives The Adventure over Yui Horie V ~ School Festival ~ on March 7th & 8th 2015 at Yoyogi National Stadium First Gymnasium. Details at special website (link below).
Single Watashi dake no monogatari comes on three editions each with CG generated or illustrated jacket cover. Watch the Miss Monochrome OVA episode below the release details (available on Youtube for a limited time).
Miss Monochrome (Yui Horie) – Watashi dake no monogatari (私だけの物語) – release date September 24th 2014
Limited A [CD+DVD] (¥1800)


Limited B [CD+DVD] (¥1800)


[CD]
1. Watashi dake no monogatari
lyrics, music: dezzy

2. Never Ending Story
lyrics: Yui Horie, music: Takahashi Shuhei

3. Watashi dake no monogatari (off vocal)
3. Never Ending Story (off vocal)

[DVD]
1. Watashi dake no monogatari (music video)

[CD]
1. Watashi dake no monogatari
2. Never Ending Story
3. Watashi dake no monogatari (off vocal)
3. Never Ending Story (off vocal)

[DVD]
1. Miss Monocrome – The Animation – MANAGER

Regular [CD] (¥1200)


[CD]
1. Watashi dake no monogatari
2. Never Ending Story
3. Watashi dake no monogatari (off vocal)
3. Never Ending Story (off vocal)
Miss Monochrome anime special website
The Adventure Over Yui Horie V ~ School Festival site