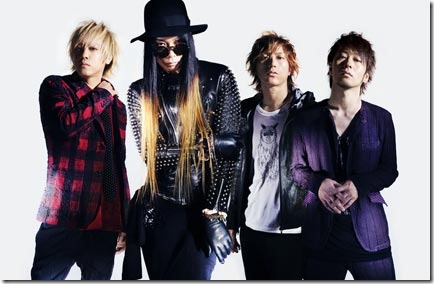 MUCC recently announced new album THE END OF THE WORLD planned to include their three singles released since their last album SHANGRI-LA (2012.11.28) and more. Its their 12th original album and comes on two editions scheduled for release on June 25th 2014 – read on for more early release details…
~ updated details – jacket and tracks ~
Visual kei band MUCC is also getting ready to release their 31st single ENDER ENDER on May 28th 2014 (more details). Previously they released single World's End (2013.10.30) with tie-up as the opening theme for anime Meganebu!. Also included on album their 29th single HALO released on September 25th 2013.
The band is in the middle of their themed tour series SIX NINE WARS that began with episode 1 performances in March 2014. The tour ends with episode 6 performances in August 2014 plus a special final event at major venue Yoyogi National Stadium on September 23rd 2014. More details at special website (link below).
Album THE END OF THE WORLD comes on two editions (details subject to change). First Press versions include tour finale rehearsal ticket for September 23rd 2014 at Yoyogi National Gymnasium. Jacket covers, full track list, and more will be updated when announced.
MUCC – THE END OF THE WORLD – release date June 25th 2014
Limited [CD+DVD] (¥3611)


Regular [CD] (¥2870)


[CD]
1. ENDER ENDER
2. World's End
3. HALO
4.- ? undecided
[DVD]
1. Burel!? Mucchi Project (YUKKE supervision)
2. undecided
[CD]
1. ENDER ENDER
2. World's End
3. HALO
4.- ? undecided