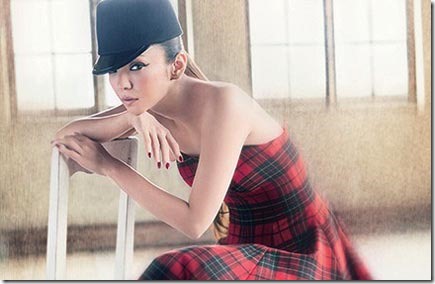 Namie Amuro recently announced a ballad best album Ballada and revealed the jacket covers, track list, and teaser preview video. The album includes the top 15 ballads as voted on by fans with Love Story (2011.12.07), CAN YOU CELEBRATE? (1997.02.19), and TSUKI (2014.01.29) the top 3. Album Ballada comes on three editions scheduled for release on June 4th 2014 – read on for more details and teaser video.
Most recently Namie Amuro released her 42nd single TSUKI with tie-up as the theme song for movie Dakishimetai ~Shinjitsu no Monogatari~ starring Keiko Kiagawa and Ryo Nishikido (KANJANI8). The single released January 29th 2014 and fans pushed it to #3 on the weekly Oricon charts.
Included on her previous single is coupling song song Ballerina which has been nominated for MTV Video Music Awards Japan 2014 in two categories: Best Female Artist and Best Video. Teaser preview below release details.
Namie Amuro's best ballads album Ballada comes on three editions (details subject to change). First Press version on all editions adds deluxe packaging and b2-sized poster.
Final track order undecided (currently chronological order). The fan voting results for the top 38 ballads available at special website (link below). Album teaser PV follows below the release details.
Namie Amuro – Ballada – release date June 4th 2014
Limited [CD+BD] (¥4200)


Limited [CD+DVD] (¥3800)


[CD]
1. SWEET 19 BLUES
2. CAN YOU CELEBRATE?
3. Dreaming I was dreaming
4. NEVER END
5. HimAWArl
6. think of me
7. I WILL
8. Wishing On The Same Star
9. Four Seasons
10. ALL FOR YOU
11. White Light
12. The Meaning Of Us
13. Love Story
14. Let Me Let You Go
15. TSUKI
16 Contrail (ballad version)

[BD] (music video collection)
1. SWEET 19 BLUES
2. CAN YOU CELEBRATE?
3. Dreaming I was dreaming
4. NEVER END
5. HimAWArl (new video)
6. think of me
7. I WILL
8. Wishing On The Same Star
9. Four Seasons (new video)
10. ALL FOR YOU
11. White Light
12. The Meaning Of Us
13. Love Story
14. Let Me Let You Go
15. TSUKI
16. SWEET 19 BLUES (new video)
17. CAN YOU CELEBRATE? (new video)

[CD]
1. SWEET 19 BLUES
2. CAN YOU CELEBRATE?
3. Dreaming I was dreaming
4. NEVER END
5. HimAWArl
6. think of me
7. I WILL
8. Wishing On The Same Star
9. Four Seasons
10. ALL FOR YOU
11. White Light
12. The Meaning Of Us
13. Love Story
14. Let Me Let You Go
15. TSUKI
16 Contrail (ballad version)

[DVD] (music video collection)
1. SWEET 19 BLUES
2. CAN YOU CELEBRATE?
3. Dreaming I was dreaming
4. NEVER END
5. HimAWArl (new video)
6. think of me
7. I WILL
8. Wishing On The Same Star
9. Four Seasons (new video)
10. ALL FOR YOU
11. White Light
12. The Meaning Of Us
13. Love Story
14. Let Me Let You Go
15. TSUKI
16. SWEET 19 BLUES (new video)
17. CAN YOU CELEBRATE? (new video)

Regular [CD] (¥2900)


 
[CD]
1. SWEET 19 BLUES
2. CAN YOU CELEBRATE?
3. Dreaming I was dreaming
4. NEVER END
5. HimAWArl
6. think of me
7. I WILL
8. Wishing On The Same Star
9. Four Seasons
10. ALL FOR YOU
11. White LIght
12. The Meaning Of Us
13. Love Story
14. Let Me Let You Go
15. TSUKI
16 Contrail (ballad version)