February 15, 2014
-
toyNN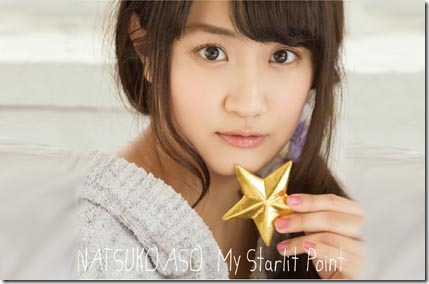 Natsuko Aso is releasing her 3rd album My Starlit Point and has unveiled all the release details. The album includes 5 previously released singles plus new songs for 12 total tracks. Album My Starlit Point comes on two editions scheduled for release on March 5th 2014 – read on for more details.
Singer and songwriter Natsuko Aso (23) most recently released her 13th single MoonRise Romance featured as the ending theme for TV anime series Walkure Romanze. Single MoonRise Romance hit stores November 27th 2013 (more details).
Her new album My Starlit Point includes singles:
– MoonRise Romance (2013.11.27, ED Walkure Romanze)
– Never Ending Voyage (2013.07.24)
– Parade! / CROSS x OVER SENSATION (2012.10.24)
– Fighting Growing Diary (2012.07.25, ED Cardfight!! Vanguard Asia Circuit Hen)
– Lovely Girls Anthem (2012.02.08, ED Tantei Opera Milky Holmes Act 2)
Special launch event is planned for album My Starlet Point for 200 fans via ticket lottery. Purchasers of the album can submit the application flyer by March 16th 2014 for a chance to attend.
– April 6th 2014 5:00pm somewhere in Tokyo
Natsuko Aso's 3rd album comes on two editions,
– Limited with DVD containing music videos and live performance footage from her birthday live event held July 28th 2013 at Daikanyama UNIT Shibuya Tokyo. Includes lottery ticket for special launch event.
– Regular CD-only. First Press adds lottery ticket for special launch event.
Full music videos for MoonRise Romance and Never Ending Voyage follow below the release details.
Natsuko Aso – My Starlit Point – release date March 5th 2014
Limited [CD+DVD] (¥3400)


Regular [CD] (¥3000) 


[CD]
1. My Starlit Point
2. Merry-go-round
3. Parade!
4. Fighting Growing Diary
5. CROSS X OVER SENSATION
6. Watashi Iro Clothes
7. Lovely Girls Anthem
8. MoonRise Romance
9. Fuanteina Wakusei
10. ICE NICE
11. You're my brightness
12. Never Ending Voyage
[DVD]
1. MoonRise Romance
2. Never Ending Voyage
3. Birthday Live July 28th 2013
– Programming for non-fiction
– Movement of magic
– Sweet Sweet Sweets
– Precious tone
– Parade!
– Never Ending Voyage
[CD]
1. My Starlit Point
2. Merry-go-round
3. Parade!
4. Fighting Growing Diary
5. CROSS X OVER SENSATION
6. Watashi Iro Clothes
7. Lovely Girls Anthem
8. MoonRise Romance
9. Fuanteina Wakusei
10. ICE NICE
11. You're my brightness
12. Never Ending Voyage