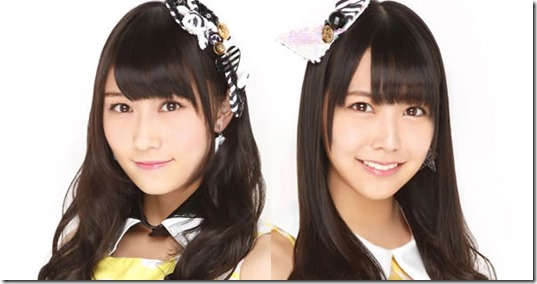 NMB48 announced their 10th single – untitled – and its their first single without ace member Yamamoto Sayaka as center or co-center. For the first time Yagura Fuuko (矢倉楓子)(17) and Shiroma Miru (白間美瑠)(16) will share the center position on the new NMB48 single. Their 10th single comes on three editions plus a theater version all releasing November 5th 2014 – more early details follow.
~ updated details and PVs, single – Rashikunai ~
Senbatsu members (22 total) selected for the new single's title song,
Double center: Yagura Fuuko and Shiroma Miru  (both on Team M)
Team BII: Ichikawa Miori, Umeda Ayaka, Watanabe Miyuki, Takayanagi Akane, Shibuya Nagisa, Kadowaki Kanako, Yabushita Shu
Team N: Yamamoto Sayaka, Kashiwagi Yuki, Kato Yuuka, Nishimura Aika, Kotani Riho, Yoshida Akari, Jonishi Kei
Team M: Tanigawa Airi, Kinoshita Momoka, Fujie Reina, Murase Sae, Yamada Nana, Kushiro Rina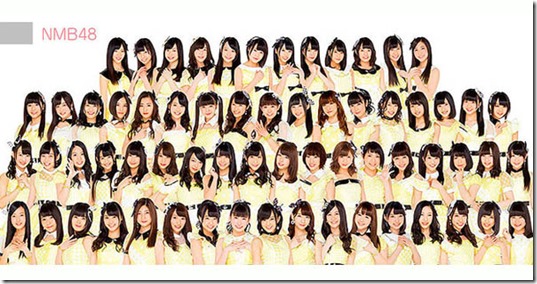 Since forming in 2010 and for the previous nine NMB48 single releases Yamamoto Sayaka (21) has been center or co-center with Watanabe Miyuki (21) (Yamada Nana (22) was co-center on 2nd single). Watanabe Miyuki ranked 18th and Yamamoto Sayaka ranked 6th at the 2014 AKB48 6th Senbatsu Sousenkyo so it is an interesting choice by management to go with two younger members over their very popular aces. Watanabe Miyuki also recently won the AKB48 5th annual Janken Taikai getting a solo debut single release as reward (details coming).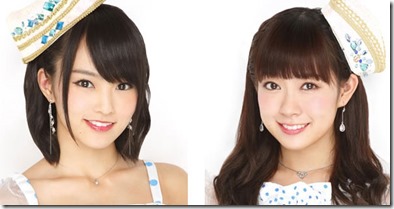 The AKB48 sister group based out of Osaka must be looking towards their future with Yagura Fuuko and Shiroma Miru being the highest ranking younger members in NMB48 – Yagura Fuuko ranked 41st and Shiroma Miru ranked 43rd at the 6th Senbatsu Sousenkyo as part of the Next Girls unit.
NMB48 most recently release their 2nd album Sekai no Chushin wa Osaka ya ~ Namba Jichiku ~ (世界の中心は大阪や~なんば自治区~) on August 13th 2014. The album includes their singles plus additional songs – 34 total spread across four different editions. Fans showed excellent support pushing the album to the top of the weekly Oricon charts with over 325,000 sold first week.
NMB48's 10th single comes on three Limited and one theater edition (details subject to change). The Limited editions have different coupling track and DVD contents. First Press versions add event ticket (details tba) and member photo. More details should be announced and updated soon!
NMB48 – 10th single (untitled) – release date November 5th 2014
Limited A [CD+DVD] (¥1524)


Limited B [CD+DVD] (¥1524)


[CD]
1. title song
2. coupling M
3. coupling A
4. title song (off vocal)
5. coupling M (off vocal)
6. coupling A (off vocal)
[DVD]
music videos and additional contents type A
[CD]
1. title song
2. coupling M
3. coupling A
4. title song (off vocal)
5. coupling M (off vocal)
6. coupling A (off vocal)
[DVD]
music videos and additional contents type B
Limited C [CD+DVD] (¥1524)


Theater [CD] (¥1000)

[CD]
1. title song
2. coupling M
3. coupling A
4. title song (off vocal)
5. coupling M (off vocal)
6. coupling A (off vocal)
[DVD]
music videos and additional contents type C
[CD]
1. title song
2. coupling A
3. coupling B
4. coupling C
5. title song (off vocal)
6. coupling A (off vocal)
7. coupling B (off vocal)
8. coupling C (off vocal)