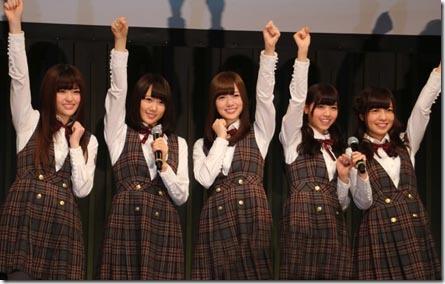 Nogizaka46 (乃木坂46) recently announced their 9th single – untitled – for release on July 9th 2014. The single comes on four editions with the Limited First Press editions including a handshake event lottery ticket. More early details follow…
~ updated – Natsu no Free & Easy plus PV revealed ~
Nogizaka46 most recently released 8th single Kizuitara Kataomoi (気づいたら片想い) on April 2nd 2014. The single includes coupling track Romance no Start featured as the CM theme song for House Foods Megashake. Fans showed their support giving the group their 7th #1 single on the weekly Oricon charts with over 457,000 copies sold. The group has seen an increase of over 120,000 copies sold since their 5th single Girls Rule.
Previously the AKB48 affiliated idol group released 7th single Barrette (バレッタ) on November 27th 2013. The single includes coupling track Tsuki no Ookisa (月の大きさ) featured as the 14th opening theme for ongoing TV anime NARUTO Shippuden.
Nogizaka's 9th single comes on four editions (details subject to change). Limited editions include handshake event lottery ticket and photo (varies). Regular edition purchased via Sony's forTUNE music and artists events store includes the handshake event lottery ticket.
Title, jacket covers, and more will be updated when announced. Follow Comtrya Sugoi for the latest news.
Nogizaka46 – 9th single (untitled) – release date July 9th 2014
Limited A [CD+DVD] (¥1528)


Limited B [CD+DVD] (¥1528)


[CD]
1. title song
2. coupling A
3. coupling B
4. title song (off vocal)
5. coupling A (off vocal)
6. coupling B (off vocal)
[DVD]
1. title song music video
2. coupling A music video
3. undecided
[CD]
1. title song
2. coupling A
3. coupling C
4. title song (off vocal)
5. coupling A (off vocal)
6. coupling C (off vocal)
[DVD]
1. title song music video
2. coupling C music video
3. undecided
Limited C [CD+DVD] (¥1528)


Regular [CD] (¥972)


[CD]
1. title song
2. coupling A
3. coupling D
4. title song (off vocal)
5. coupling A (off vocal)
6. coupling D (off vocal)
[DVD]
1. title song music video
2. coupling D music video
3. undecided
[CD]
1. title song
2. coupling A
3. coupling E
4. title song (off vocal)
5. coupling A (off vocal)
6. coupling E (off vocal)