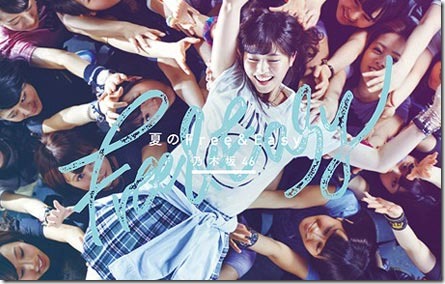 Nogizaka46 (乃木坂46) added the final details for single Natsu no Free & Easy (夏のFree&Easy) – full track lists unveiled. Previously the jacket covers and title track music video were revealed. Provisional member Matsui Rena from SKE48 participates on her first Nogizaka46 release. Single Natsu no Free & Easy comes on four editions releasing July 9th 2014 – read on for all the details and PV.
Nogizaka46 most recently released 8th single Kizuitara Kataomoi (気づいたら片想い) on April 2nd 2014. The single includes coupling track Romance no Start featured as the CM theme song for House Foods Megashake. Fans showed their support giving the group their 7th #1 single on the weekly Oricon charts with over 457,000 copies sold. The group has seen an increase of over 120,000 copies sold since their 5th single Girls Rule.
Previously the AKB48 affiliated idol group released single Barrette (バレッタ) on November 27th 2013. The single's main coupling track Tsuki no Ookisa (月の大きさ) has tie-up as the 14th opening theme for ongoing TV anime NARUTO Shippuden.
New single Natsu no Free & Easy (Free & Easy Summer) comes on four editions,
Limited editions include handshake event lottery ticket and photo (varies). The DVD's include music videos and member personal PVs covering 41 members and overseen by director Satoshi Miki.
Regular edition purchased via Sony's forTUNE music and events store includes a handshake event lottery ticket.
Music video follows below the release details.
Nogizaka46 – Natsu no Free & Easy – release date July 9th 2014
Limited A [CD+DVD] (¥1528)


Limited B [CD+DVD] (¥1528)


[CD]
1. Natsu no Free & Easy 
2. Nani mo Dekizu ni Soba ni Iru
3. Sonosaki no Deguchi
4. Natsu no Free & Easy (off vocal)
5. Nani mo Dekizu ni Soba ni Iru  (off vocal)
6. Sonosaki no Deguchi  (off vocal)
[DVD]
1. Natsu no Free & Easy music video
2. Sonosaki no Deguchi music video
3. Member duo mini-dramas part 1
[CD]
1. Natsu no Free & Easy 
2. Nani mo Dekizu ni Soba ni Iru 
3. Mukuchina Lion
4. Natsu no Free & Easy (off vocal)
5. Nani mo Dekizu ni Soba ni Iru  (off vocal)
6. Mukuchina Lion  (off vocal)
[DVD]
1. Natsu no Free & Easy music video
2. Mukuchina Lion music video
3. Member duo mini-dramas part 2
Limited C [CD+DVD] (¥1528)


Regular [CD] (¥972)


[CD]
1. Natsu no Free & Easy 
2. Nani mo Dekizu ni Soba ni Iru 
3. Koko ni Iru Riyuu
4. Natsu no Free & Easy (off vocal)
5. Nani mo Dekizu ni Soba ni Iru  (off vocal)
6. Koko ni Iru Riyuu  (off vocal)
[DVD]
1. Natsu no Free & Easy music video
2. Koko ni Iru Riyuu music video
3. Member duo mini-dramas part 3
[CD]
1. Natsu no Free & Easy 
2. Nani mo Dekizu ni Soba ni Iru 
3. Boku ga Ikanakya dare ga ikunda?
4. Natsu no Free & Easy (off vocal)
5. Nani mo Dekizu ni Soba ni Iru   (off vocal)
6. Boku ga Ikanakya dare ga ikunda?  (off vocal)