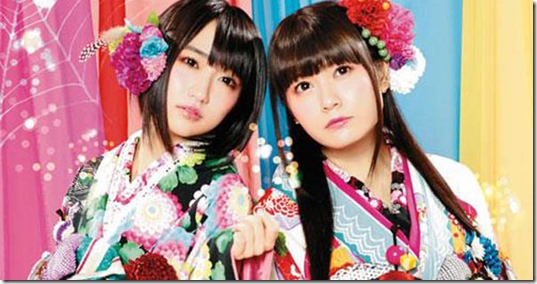 petit milady updated the release details for single Hi no Ito Rinne no GEMINI (緋ノ糸輪廻ノGEMINI) – jacket covers, full track list, preview videos, and more unveiled. The title song is distinctly ALI PROJECT who produces the new single for unit petit milady. The single gets tie-up as the opening theme for anime Seiken Tsukai no World Break (聖剣使いの禁呪詠唱<ワールドブレイク>) plus unit members Aoi Yuuki and Ayana Taketatsu voice key characters in the high school action-fantasy anime. Single Hi no Ito Rinne no GEMINI comes on two editions hitting stores January 7th 2015 – updated details and PVs follow.
The unit has announced a single release events on January 18th 2015 (12:00pm & 3:30pm) somewhere in Tokyo. Event ticket applications distributed to purchasers of the single at selected stores (animate, Gamers, Toranoana, and others).
Voice actors and singers Aoi Yuuki and Ayana Taketatsu form petit milady and most recently released 3rd single Koi wa Milk Tea (恋はみるくてぃ) on August 13th 2014. The single has tie-up as the ending theme for anime Invaders of the Rokujyouma!?(Rokujyoma no Shinryakusha!?, 六畳間の侵略者!?).
Both also have solo releases – Aoi Yuuki has announced her 1st album Ishmael for release on February 11th 2015 (more details) and Ayana Taketatsu released 2nd album Colore Serenata on November 19th 2014 (more details).
Anime Seiken Tsukai no World Break (Campus Sword & Sorcery, 聖剣使いの禁呪詠唱<ワールドブレイク>) ) is adapted from light novels by Awamura Akamitsu and illustrated by refeia. The story is set in a private high school for youths with special powers awakened by memories of their past lives. Students are divided by those who have special inner power to fight with weapons and techniques and those who fight with magic. When a boy named Haimura Moroha enrolls he upsets this balance by being the first who can use both powers together.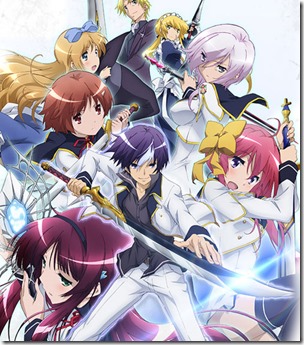 The anime features Aoi Yuuki (Urushibara Shizuno), Ayana Taketatsu (Ranjo Satsuki), Maaya Uchida (Momochi Haruka), Ogura Yui (Shimon Maya), and Ishikawa Kaito (Haimura Moroha). It begins airing January 11th 2015 on TV Tokyo no announcements for availability outside of Japan yet.
The anime's ending theme Magna Idea is provided by unit fortuna formed with voice cast members – Aoi Yuuki, Ayana Teketatsu, Maaya Uchida, and Ogura Yui.
Single Hi no Ito Rinne no GEMINI comes on two editions. Most stores offer a bonus New Year's photo card while supplies last and image varies by store. The photo card is also tied to an awards lottery (details coming).
Single preview videos and anime trailer all after release details.
petit milady – Hi no Ito Rinne no GEMINI (緋ノ糸輪廻ノGEMINI) – release date January 7th 2014
Limited [CD+DVD] (¥1800)


Regular [CD] (¥1200)


[CD]
1. Hi no Ito Rinne no GEMINI
lyrics: Takarano Arika, music: Katakura Mikiya

2. THE SONG IS…
3. Hi no Ito Rinne no GEMINI (off vocal)
4. THE SONG IS… (off vocal)
[DVD]
1. Hi no Ito Rinne no GEMINI (music video)

[CD]
1. Hi no Ito Rinne no GEMINI
2. THE SONG IS…
3. Hi no Ito Rinne no GEMINI (off vocal)
4. THE SONG IS… (off vocal)
Ayana Taketatsu Official website
Aoi Yuuki Official website (JVC Music)
petit milady Universal Music site
Seiken Tsukai no World Break official site