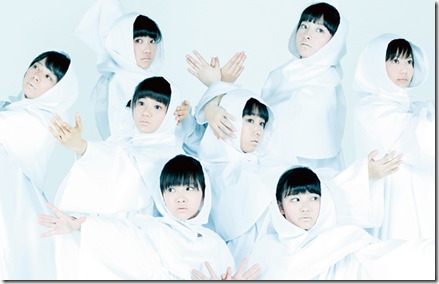 Idol group Shiritsu Ebisu Chugaku (私立恵比寿中学) is getting ready to release single Butterfly Effect with tie-up as the opening theme for anime Nanana's Buried Treasure (龍ヶ嬢七々々の埋蔵金). Ebichu's 6th single comes on three editions scheduled for release on June 4th 2014 – read on for more details.
Shiritsu Ebisu Chugaku (Ebisu Private Junior High School, shortened: Ebichu) formed in 2009 with members having an average age of 15 years old. The group has regular graduations or "change schools" with original member Mizuki (17) along with Anno Natsu (16) and Suzuki Hirono (16) recently graduating April 15th 2014 after their Nippon Budokan concert. Currently there are 8 members,
3. Rika Mayama (真山 りか),(age 17)
5. Ayaka Yasumoto (安本 彩花),(age 15)
6. Aika Hirota (廣田 あいか),(age 15)
7. Mirei Hoshina (星名 美怜),(age 16)
9. Rina Matsuno (松野 莉奈),(age 15)
10. Hinata Kashiwagi (柏木 ひなた),(age 15)
11. Kaho Kobayashi (小林歌穂),(age 13) – begin March 21, 2014
12. Riko Nakayama (中山莉子),(age 13) – begin March 21, 2014
Ebichu is holding a 6th single release event for Butterfly Effect with free viewing of mini-live. A handshake participation ticket is available for those booking the single (any edition) at the event.
– May 18th 2014 12:30pm Oita Park Place
Anime Nanana's Buried Treasure (龍ヶ嬢七々々の埋蔵金, Ryūgajō Nanana no Maizōkin) is adapted from light novels by Otorino Kazuma and the story follows Yama Jugo who transfers to a high school on a special student zone artificial island. Jugo who is on is own must move into a low-rent apartment which is haunted by the ghost of Ryugajo Nanana. Yama and other members of the school's adventure club join in on a hunt for Nanana's treasure.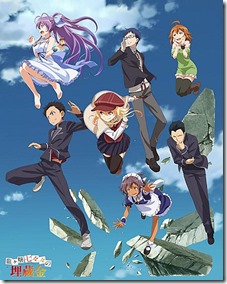 The anime is produced by A-1 Pictures and airs on the Fuji TV Noitamina time slot starting April 10th 2014. Outside of Japan provider Crunchyroll is simulcasting – check our Crunchyroll new episodes page or hit the link for Nanana's Buried Treasure for episodes and related stories.
The ending theme is provided by Sphere with their 15th single Kasuka na Hisoka na Tashika na Mirai.
Single Butterfly Effect comes on three editions each with a different second coupling track. Selected stores offer code to watch making-of music video online, other stores offer bonus photo (check your store). Each edition includes a member trading card (1 of 8),
Shiritsu Ebisu Chugaku – Butterfly Effect – release date June 4th 2014
Limited Anime [CD+DVD] (¥1667)


Limited [CD] (¥1111)


[CD]
1. Butterfly Effect
lyrics, music: U-re:x

2. Anger no koi
lyrics: Matohara Naoto, music: Takumi Masanori

3. Butterfly Effect (TV-size)
4. Butterfly Effect (off vocal)
5. Anger no koi (off vocal)
[DVD]
1. Butterfly Effect (music video)
2. opening theme animation textless

[CD]
1. Butterfly Effect
2. Anger no koi
3. Shiawase no harigami wa itsumo senaka ni
lyrics, composer: Hirano Kou, arrangement: WK1

4. Butterfly Effect (off vocal)
5. Anger no koi (off vocal)
6. Shiawase no harigami wa itsumo senaka ni (off vocal)

Regular [CD] (¥1111)


[CD]
1. Butterfly Effect
2. Anger no koi
3. Lovely Smiley Baby
lyrics, composer: IMAKISASA, arrangement: APAZZI, IMAKISASA

4. Butterfly Effect (off vocal)
5. Anger no koi (off vocal)
6. Lovely Smiley Baby (off vocal)
Nanana's Buried Treasure episode 5 preview
Shiritsu Ebisu Chugaku official website