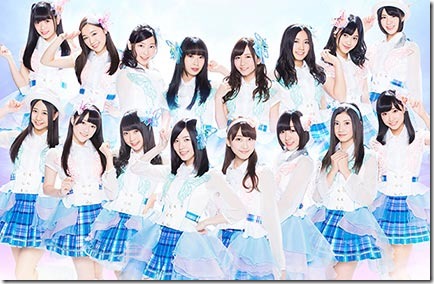 SKE48 recently announced their 15th single – (Bukiyou Taiyou)- scheduled for release on July 30th 2014. The single is planned for 4 pairs of editions with the Limited including the handshake event ticket. More early release details follow plus pre-order links…
Most recently SKE48 released 14th single Mirai to wa? (未来とは?) on March 19th 2014. Fans showed typical support pushing the single to #1 on the weekly Oricon charts – the AKB48 sister group's 10th #1 in a row.
Their 15th single is their first since the AKB48 group shuffle that brought 7 members to SKE48 including Miyazawa Sae, Watanabe Miyuki (concurrent NMB48), Sato Sumire, Yamauchi Suzuran, Tanaka Natsumi (concurrent HKT48), Yamada Nana (concurrent NMB48), and Tani Marika.
SKE48 also lost important members since their last single including Kizaki Yuria (transferred to AKB48) and graduated members on April 29th 2014 included Deguchi Aki, Kito Momona, Matsumoto Rina, Iguchi Shiori, and Kaneko Shiori.
SKE48's new single comes on 4 pairs of editions (plus a CD only edition available at mu-mo shop). The Limited editions include handshake event ticket. CD and DVD contents are similar between Limited and Regular of each type and planned to each include 3 songs plus karaoke versions. The coupling track differs between edition types as does part of the DVD tracks.
Title track, jacket covers, and more details coming – follow Comtrya Sugoi for updates.
SKE48 – 15th single (Bukiyou Taiyou, 不器用太陽) – release date July 30th 2014
Limited A [CD+DVD] (¥1524)


Regular A [CD+DVD] (¥1524)


[CD]
contents undecided
[DVD]
contents undecided
[CD]
contents undecided
[DVD]
contents undecided
Limited B [CD+DVD] (¥1524)


Regular B [CD+DVD] (¥1524)


[CD]
contents undecided
[DVD]
contents undecided
[CD]
contents undecided
[DVD]
contents undecided
Limited C [CD+DVD] (¥1524)


Regular C [CD+DVD] (¥1524)


[CD]
contents undecided
[DVD]
contents undecided
[CD]
contents undecided
[DVD]
contents undecided
Limited D [CD+DVD] (¥1524)


Regular D [CD+DVD] (¥1524)


[CD]
contents undecided
[DVD]
contents undecided
[CD]
contents undecided
[DVD]
contents undecided