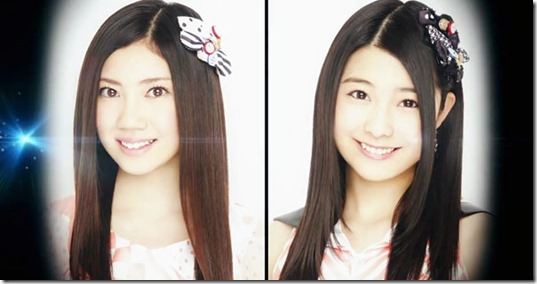 SKE48 revealed Kitagawa Ryouha (北川綾巴) and Miyamae Ami (宮前杏実) are co-centers for 16th single Jyuunigatsu no Kangaroo (12月のカンガルー, December no Kangaroo). Also revealed the full 22 member senbatsu and the track list for the single. Single Jyuunigatsu no Kangaroo releases December 10th 2014 – read on for more details and announcement video.
~ updated details ~
Similar to NMB48's upcoming 10th single Rashikunai that features new centers and new senbatsu members, this single features several new senbatsu members and first time co-centers Kitagawa Ryouha (16) and Miyamae Ami (17). Both are un-ranked in the AKB48 General Election and Miyamae Ami also only previously performed on single b-sides. Their 16th single's full 22-member senbatsu (bold are first time selections),
Azuma Rion, Oya Masana, *Kitagawa Ryouha, Futamura Haruka, Matsui Jurina, Miyazawa Sae, *Miyamae Ami, Yamauchi Suzuran, Watanabe Miyuki, Oba Mina, Takayanagi Akane, Furukawa Airi, Furuhata Nao, Yamada Nana, Sato Sumire, Shibata Ami, Suda Akari, Tani Marika, Matsui Rena, Soda Sarina, Iwanaga Tsugumi, Kimoto Kanon
The 16th single announcement came during the first day of their SKE48 Request Hour 2014 being held November 1st & 2nd 2014 at Nagoya Century Hall.
Single Jyuunigatsu no Kangaroo (12月のカンガルー, December no Kangaroo) comes on four pairs of Limited/Regular editions plus a theater CD-only version. Limited includes handshake event ticket and extra bonus. All editions include member photo.
Jacket covers and more coming! Announcement video for 16th single senbatsu after the release details.
SKE48 – Jyuunigatsu no Kangaroo – release date December 10th 2014
Limited A [CD+DVD] (¥1524)


Regular A [CD+DVD] (¥1524)


[CD]
1. Jyuunigatsu no Kangaroo
2. Kesenai Hono (Team S)
3. I love AICHI (Aichi Toyota senbatsu)
4. Jyuunigatsu no Kangaroo (off vocal)
5. Kesenai Hono (off vocal)
6. I love AICHI (off vocal)
[DVD]
1. Jyuunigatsu no Kangaroo (music video)
2. Kesenai Hono (music video)
3. Bonus A
[CD]
1. Jyuunigatsu no Kangaroo
2. Kesenai Hono (Team S)
3. I love AICHI (Aichi Toyota senbatsu)
4. Jyuunigatsu no Kangaroo (off vocal)
5. Kesenai Hono (off vocal)
6. I love AICHI (off vocal)
[DVD]
1. Jyuunigatsu no Kangaroo (music video)
2. Kesenai Hono (music video)
3. Bonus A
Limited B [CD+DVD] (¥1524)


Regular B [CD+DVD] (¥1524)


[CD]
1. Jyuunigatsu no Kangaroo
2. DA DA Machine Gun (Team KII)
3. I love AICHI (Aichi Toyota senbatsu)
4. Jyuunigatsu no Kangaroo (off vocal)
5. DA DA Machine Gun (off vocal)
6. I love AICHI (off vocal)
[DVD]
1. Jyuunigatsu no Kangaroo (music video)
2. DA DA Machine Gun (music video)
3. Bonus B
[CD]
1. Jyuunigatsu no Kangaroo
2. DA DA Machine Gun (Team KII)
3. I love AICHI (Aichi Toyota senbatsu)
4. Jyuunigatsu no Kangaroo (off vocal)
5. DA DA Machine Gun (off vocal)
6. I love AICHI (off vocal)
[DVD]
1. Jyuunigatsu no Kangaroo (music video)
2. DA DA Machine Gun (music video)
3. Bonus B
Limited C [CD+DVD] (¥1524)


Regular C [CD+DVD] (¥1524)


[CD]
1. Jyuunigatsu no Kangaroo
2. Seishun Curry Rice (Team E)
3. I love AICHI (Aichi Toyota senbatsu)
4. Jyuunigatsu no Kangaroo (off vocal)
5. Seishun Curry Rice (off vocal)
6. I love AICHI (off vocal)
[DVD]
1. Jyuunigatsu no Kangaroo (music video)
2. Seishun Curry Rice (music video)
3. Bonus C
[CD]
1. Jyuunigatsu no Kangaroo
2. Seishun Curry Rice (Team E)
3. I love AICHI (Aichi Toyota senbatsu)
4. Jyuunigatsu no Kangaroo (off vocal)
5. Seishun Curry Rice (off vocal)
6. I love AICHI (off vocal)
[DVD]
1. Jyuunigatsu no Kangaroo (music video)
2. Seishun Curry Rice (music video)
3. Bonus C
Limited D [CD+DVD] (¥1524)


Regular D [CD+DVD] (¥1524)


[CD]
1. Jyuunigatsu no Kangaroo
2. Ai no Rules (Fours)
3. I love AICHI (Aichi Toyota senbatsu)
4. Jyuunigatsu no Kangaroo (off vocal)
5. Ai no Rules (off vocal)
6. I love AICHI (off vocal)
[DVD]
1. Jyuunigatsu no Kangaroo (music video)
2. Ai no Rules (music video)
3. Bonus D
[CD]
1. Jyuunigatsu no Kangaroo
2. Ai no Rules (Fours)
3. I love AICHI (Aichi Toyota senbatsu)
4. Jyuunigatsu no Kangaroo (off vocal)
5. Ai no Rules (off vocal)
6. I love AICHI (off vocal)
[DVD]
1. Jyuunigatsu no Kangaroo (music video)
2. Ai no Rules (music video)
3. Bonus D
Theater [CD] (¥1000)

 
[CD]
1. Jyuunigatsu no Kangaroo
2. I love AICHI (Aichi Toyota senbatsu)
3. SKE48 16th Single Medley
4. Jyuunigatsu no Kangaroo (off vocal)
5. I love AICHI (off vocal)
 
Documentary of SKE48 special site